Band: NARBELETH
Titel: THROUGH BLACKNESS, AND REMOTE PLACES
Label: Folter Records
VÖ: 25.September 2015
Genre: Black Metal
Bewertung: 3,5/5
Written by: Mayhemer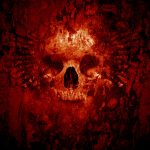 An ALLE Puristen: Hier ist euer nächster Kauf! So, mal wieder zurück zum Anfang. Narbeleth ist eine Ein – Mann – Band um Multiinstrumentalist Lord Dakkar, der aus Kuba stammt.
Live hat er seine Mannen, aber auf dem Album ist nur er alleine zu hören. WAS! KUBA! Ja, genau. Somit eindeutig Exotenstatus hier in Europa, obwohl der gute Mann bereits sein drittes Werk auf die Menschheit loslässt. Hmm, kann Lord Dakkar alias NARBELETH einem Exotenstatus, also der Verherrlichung von Bands, die Metal machen und dabei nicht aus den üblichen Ländern stammen, standhalten? Jaaaa, das kann er. Herr Dakkar beherrscht die Gitarren, die Drums und den Gesang bzw. das Geschrei und darf sich somit weit aus dem Fenster lehnen. Da kenn ich schon andere Musikerkollegen…
Die Musik lehnt sich an den Black Metal Urgesteinen der 1990er an. Hier dienen ihm eher die nordischen denn die Amerikanischen Bands als Vorbild. Großteils fühle ich mich in die Anfangszeit des großen Aufschwungs einer ganzen Bewegung rückversetzt. Es ist aber auch nicht alles nur reines Geprügel. Die Songs sind sehr wohl ins Moderne gezogen worden, mit Melodie und mit Rhythmus ausgestattet – aber eben in die Grenzen des rohen Black Metal eingebettet. Vielfalt und Eigenständigkeit sind vorhanden und die Coverversion des Judas Iscariot – Songs "Gaze upon the heaven in Flames" wurde 1:1 umgesetzt. Nur. Ja, nur: Akhenaten (Judas Iscariot) kann es dann doch besser. Alles in allem ein sehr gelungenes Album, dass ältere Semester in Nostalgie versinken lässt und die Jugend von heute sehr wohl zum (Original-) Kauf ermutigen wird. Auf Folter Records ist eben Verlass. Daumen hoch. Rock on!
Tracklist:
01. Sons Of The Grand Cosmic Emanation
02. Mesmerized By The Pale Ghost Moonlight
03. An Unholy Gathering
04. Delivering The Very Soul
05. The Lightbringer
06. The Eternal Return
07. Through Blackness, And Remote Places
08. Gaze Upon The Heaven In Flames (Judas Iscariot Cover)
Besetzung:
Lord Dakkar-Vocals, all instruments
Internet: