Band: Deathstorm
Titel: Blood Beneath The Crypts
Label: High Roller Records
VÖ: 27.05.2016
Genre: Thrash Metal
Bewertung: 2,5/5
Written by: Daniel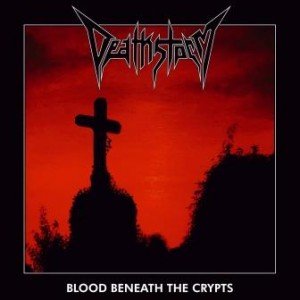 Dem Quartett aus Österreich muss man eines auf jeden Fall attestieren:
Ihre bedingungslose Liebe zum 80er Thrash Metal.
Irgendwo im Reich alter Kreator, Sodom und gelengtlich mit messerscharfen Destruction – Riffs (vor allem Murder Of A Faceless Victim und I Saw The Devil) schaffen es die Jungs aus der Steiermark aber leider selten über Stangenwarenniveau.
Auch wenn DEATHSTORM mit ihrer Intension durchaus sympathisch bei mir rüberkommen, ist einiges im Argen.
Deathblow bleibt auch nach etlichen Durchgängen nicht hängen, Splendid Mutilation wirkt zudem trotz seiner Momente arg bemüht und I Conquer "glänzt" mehr durch Überlänge denn Prägnanz.
Hinzu kommt, dass Murder Of A Faceless Victim und Enter the Void / Dunwich gleich mal ganz unten durchrutschen. Ich habe hier Demos im Regal (u. a. von Bitchhammer, Lycanthrope und Toxic Beast), da finde ich durchweg besser organisiertes Chaos.
Im Gegenzug bieten Immortalized Sinner, Verdunkeln und I Saw The Devil zwar gehobenen Krawall mit bangerfeundlichen Mittelparts. Aber ob das reicht, um Fans zum Kauf zu bewegen, darf bezweifelt werden. In Anbetracht der Fülle an Thrash Newcomern, von denen zudem nicht gerade wenige bessere Kompositionen in petto haben, reicht BLOOD BENEATH THE CRYPTS allenfalls für Die Hard Thrasher, welche vor allem auf die ganz frühen Kreator stehen. Und nur denen ist das Zweitwerk zu empfehlen, sorry.
Trackliste:
01. Deathblow
02. Splendid Mutilation
03. Murder Of A Faceless Victim
04. Immortalized Sinner
05. I Conquer
06. Enter the Void / Dunwich
07. Verdunkeln
08. I Saw The Devil
Besetzung:
Mac – vocals, bass
Ferl – lead guitar
Steindl – rythm guitar
Mani – drums
Deathstorm im Internet:
Bandcamp