Band: Denominate
Titel: Those Who Beheld The End
Label: Inverse Records
VÖ: 05. August 2016
Genre: Progressive Technical Death Metal
Bewertung: 4,5/5
Writen by: Lazer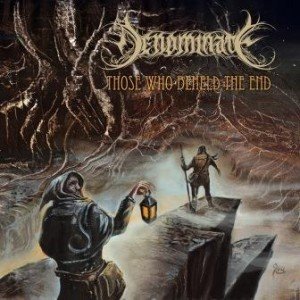 Etwas Abkühlung für die heißen Sommertage bringt uns dieser Tage der Hohe Norden. Die Finnen von Denominate präsentieren uns ihr Debütalbum "Those Who Beheld The End".
Bereits 2009 gründete sich die Truppe, als die Musikanten ihr Dasein noch in der High School fristeten. Allerdings damals noch unter dem Namen Encrypted. Diesen mussten die Jungs jedoch wegen rechtlichen Gründen wieder ändern, da es bereits eine Band mit diesem Namen gab und diese sich diesen Namen eintragen haben lassen. Ob die Scheibe nun Abkühlung bringt, oder nun doch noch mehr anheizt, schauen wir uns sofort an.
Den Beginn des 7er-Stücks von "Those Who Beheld The End" macht ein furioses "In A Chasm Of Stone". Die Truppe legt gleich ordentlich los und will dem Hörer ohne Umschweife klar machen, dass hier brachialere Töne angeschlagen werden. Nichts also mit Pussygehabe oder Kuschelrock. Im Laufe der Scheibe kristallisiert sich immer mehr und mehr heraus, die Mannschaft ist eingespielt ohne Ende. Die Platte wirkt insgesamt sehr homogen und rund. Die Tracks sind durch die Bank brachial und brutal. Weisen aber dennoch ausreichend Melodie und Rhythmik aus. Gerade die superschnellen Rhythmenwechsel machen dieses Stück Musik sehr interessant und nicht zur Null-Acht-Fünfzehn-Nummer.
Die 43 Minuten Spielzeit zahlen sich vollkommen aus. Denominate verbauen leichte Thrash Anleihen genauso wie progressive Elemente. Technisch haben es die Finnen aus Oulu ohnehin abartig drauf. Die Garnierung auf wüste Riffs, drückende Bässe und leicht eingehende Melodien setzen die inbrünstigen Vocals die keifen, schreien, brüllen und grölen. Ein absoluter Höhepunkt dieses Albums ist das knapp über elf minütige Epos "Torments Of Silence". Hier herrscht nämlich alles andere als Stille. Leicht melancholisch und episch angehaucht startet dieses Monstrum, ehe es – wie im restlichen Album auch – ordentlich auf die Fresse gibt.
Mein Fazit: "Those Who Beheld The End" ist ein ausgesprochen gutes, überdurchschnittliches Debütalbum geworden. Denominate wollen hiermit auzeigen, dass sie zu mehr berufen sind, als für Shows in und rund um ihre Heimatstadt. Für Liebhaber von Behemoth, Death oder Opeth ist diese Platte genau das Richtige. Man kann den Finnen hier nur die vollste Gratulation und höchsten Respekt aussprechen.
Trackist:
01. In A Chasm Of Stone
02. Degradation
03. Penumbra
04. The Demented Scholar Of Abatos
05. Torments Of Silence
06. Apeirophobia
07. Terrestrial Funeral
Besetzung:
Ville Männikkö – Vocals
Kimmo Raappana – Guitars
Eetu Pylkkänen – Guitars
Tuomas Pesälä – Bass
Joni Määttä – Drums
Internet:
Checkt hier das Album via Spotify: