Band: DESOLATED
Titel: THE END
Label: BDHW Records
VÖ: 05.02.2016
Genre: Hardcore
Bewertung: 3/5
Written by: Mayhemer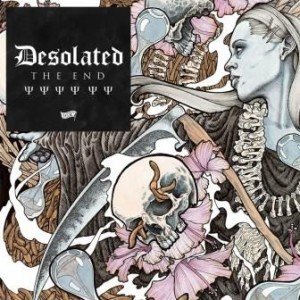 DESOLATED stammen aus England. Genauergenommen aus Southhampton. Schön dort. Fußball wird dort auch groß geschrieben. Mein Verein, Red Bull Salzburg verlor an den FC Southhampton einen unserer Topspieler, Sadio Mané, der auch den schnellsten und frühesten Hattrick der Premier League erzielte. So, um Fußball geht es aber nicht, sondern um Musik. Um die Musik von Desolated und deren neues Album THE END. Die Band wurde im Jahr 2007 gegründet, hat mit der neuen CD 3 Full-Lenght Alben auf dem Markt, nebst diversen EP´s, einer 7 inch und einem Demo aber bereits 8 Veröffentlichungen auf dem Buckel. Somit ist der Band der Newcomer Status meinerseits abzuerkennen.
Die Musik von THE END wird hauptsächlich im Beatdown Sektor abgehandelt. 95% Des Albums bewegen sich im Midtempo oder gar noch schleppender. Wo andere Genrekollegen aufs Gas drücken und die Hardcore-Keule auspacken, arbeiten Desolated gezielt auf Langsamkeit hin. So entsteht ein zäher, fetter Midtempo, Hardcore – Brei, der nur durch wenige Highlights brillieren kann. Grundsätzlich liebe ich Midtempo Riffs, aber hier wurde mir am Songwriting zu wenig Abwechslung geboten. Irgendwie fehlt der Pfeffer – und das hat nichts mit Beatdown zu tun. Die Produktion ist gut, aber kein echtes Highlight. Vielleicht liegts ja daran, dass das Album einfach nicht zünden will. Die Fans werden es schon lieben. Das sollte dann auch reichen.
Highlights des Albums: "Relapse", "Therapy" (hier wird´s tatsächlich mal schneller) und vor allem das instrumentale "Out of Luck".
Tracklist:
01. The Beginning
02. Numb
03. Therapy
04. Invasion
05. Olanzapine
06. Withdrawal
07. The End
08. Out Of Luck
09. Relapse
10. Psychosis
Besetzung:
Vocals – Paul Williams
Guitar – Rich Unsworth
Bass – Jake Marlowe
Drums – Tommy Defelice
Guitar – Drew harper
Internet: