Band: Elmsfire
Titel: Thieves of the Sun
Label: Massacre Records
VÖ: 2010
Genre: Melodic Heavy Metal
Bewertung: 3/5
Written by: Michael Kasuba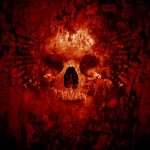 Zu den Newcomern zählen Elmsfire, welche über Massacre Records ihr neues Album Thieves Of The Sun veröffentlichten. Elmsfire begannen jedoch schon 1999 ihre Musik zu machen. Heavy Metal in der Richtung Fantasy und Epic.
Sie selbst geben ihre Musik als Mischung aus Thrash, Power und Heavy Metal an und veröffentlichten schon 2002 ihr Demo "Untide". Im Jahr 2005 folgte die EP Horizons und 2007 eine weitere Demo namens "Serum". 2010 lieh Ross Thompson (mittlerweile eine bekannte Größe im Metalbereich) der Band seine Stimme für das erste Album.
Ob Massacre Records mit ihrem Fang einen Erfolg machen, wird sich in Zukunft zeigen. Fans der Schiene: Blind Guardian, Rhapsody Of Fire (ehemals Rhapsody), etc. dürfte das Album sicherlich sehr gefallen. Dazu der günstige Newcomer-Preis den Massacre verspricht der Band zum Erfolg zu helfen.
Leider gestaltet sich das Album trotz abwechslungsreicher Songs sehr kurz und so dürften potentielle Fans schnell hungrig nach neuem Material sein. Ein durchweg gutes Album wie Thieves Of The Sun bietet jedenfalls eine perfekte Grundlage für die weitere Karriere von Elmsfire.
Tracklist:
01. Towards The Gate Of Hercules
02. Worth A Tale
03. Eolian
04. Stormchild
05. Escape
06. Ahab
07. Taipouri Ake Tonu Atu
08. Thieves Of The Sun
Besetzung:
Erdmann (voc)
Doro (guit)
Germano (guit)
Fritz (bass)
Morten (keys)
Patrick (drums)
Internet:
Elmsfire Website
Elmsfire @ MySpace