Band: Elvenking
Titel: The Night Of Nights-Live
Label: AFM Records
VÖ: 04.12.15
Genre: Melodic Power/Folk Metal
Bewertung: 4/5
Written by: Totti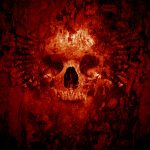 Die italienischen Folk-Power Metaller Elvenking gaben jetzt endlich den Wünschen der Fans nach und haben ein sehr schönes Heimspiel aus der Stadt Pordenone / Italien auf DVD / 2CD verewigt.
Die DVD liegt mir blöderweise nicht vor, kann also nix zu Bild / Ton etc., sagen.
Laut Info befinden sich wohl alle 6 Videoclips der Band und ein Teaser als Bonusmaterial zum selben Konzert in voller Länge auf der DVD…
Die CD´s gehen soundtechnisch sehr gut rein und hinterlassen den Eindruck, nicht viel nachbearbeitet worden zu sein, die 25 Songs klingen sehr authentisch und sind eine gut getroffene Auswahl, welche die 18jährige Bandgeschichte recht gut präsentiert.
Es wird immer Nörgeleien geben, man hätte doch auch den und / oder den Song ins Liveprogramm aufnehmen können, doch der geneigte Fan wird mit mir konform gehen, das dies eine wirklich gut gewählte Setlist ist.
Sichtbar spielfreudig und routiniert geht die Band über 2 Stunden ans Werk um die Fanschaft (auch gut sichtbar) zu begeistern. Man redet hier gern von einem "eingefangenen magischen Abend", was ich persönlich etwas weit her geholt finde, aber Fans der Band wohl auch so bezeichnen würden.
Das ist der Casus Knackus an dieser Veröffentlichung: Neue Fans wird man damit kaum gewinnen können, doch den jahrelangen Followern tut man mit "The Night Of Nights – Live" nach 8 Studioalben bestimmt einen großen Gefallen.
Ein Highlight für Fans, für Neu-Einsteiger eine nette Live-Best Of – Kompilation.
Tracklist:
Disc 1 (CD)
01. The Manifesto 01:30
02. Trows Kind 06:05
03. The Wanderer 04:58
04. Runereader 07:11
05. Pagan Revolution 05:21
06. She Lives at Dawn 01:20
07. Jigsaw Puzzle 05:05
08. Elvenlegions 04:28
09. The Cabal 04:23
10. A Prayer to Cernunnos 01:17
11. Moonbeam Stone Circle 05:34
12. Symohn's Bash 05:04
13. From Blood to Stone (Acoustic) 04:59
14. Skywards 06:18
15. Disillusion's Reel (Acoustic) 03:27
Disc 2 (CD)
01. Elven Aftermath 02:05
02. Seasonspeech 09:18
03. Through Wolf's Eyes 03:13
04. The Divided Heart 05:54
05. Neverending Nights 07:21
06. The Winter Wake 05:24
07. Era Theme 01:41
08. The Loser 06:44
09. The Oak Woods Bestowed 00:45
10. Pagan Purity 08:36
Disc 3 (DVD)
01. The Manifesto 01:30
02. Trows Kind 06:05
03. The Wanderer 04:58
04. Runereader 07:11
05. Pagan Revolution 05:21
06. She Lives at Dawn 01:20
07. Jigsaw Puzzle 05:05
08. Elvenlegions 04:28
09. The Cabal 04:23
10. A Prayer to Cernunnos 01:17
11. Moonbeam Stone Circle 05:34
12. Symohn's Bash 05:04
13. From Blood to Stone (Acoustic) 04:59
14. Skywards 06:18
15. Disillusion's Reel (Acoustic) 03:27
16. Elven Aftermath 02:05
17. Seasonspeech 09:18
18. Through Wolf's Eyes 03:13
19. The Divided Heart 05:54
20. Neverending Nights 07:21
21. The Winter Wake 05:24
22. Era Theme 01:41
23. The Loser 06:44
24. The Oak Woods Bestowed 00:45
25. Pagan Purity 08:36
26. The Divided Heart (Official Video) 04:51
27. The Cabal (Official Video) 04:43
28. Your Heroes Are Dead (Official Video) 04:26
29. The Loser (Official Video) 05:47
30. Elvenlegions (Official Video) 04:51
31. The Solitaire (Lyric Video) 04:44
32. Pagan Manifesto (Teaser) 00:39
Besetzung:
Damnagoras (voc)
Aydan (guit)
Rafahel (guit)
Jakob (bass)
Lethien (keys & violin)
Symohn (drums)
Internet:
Elvenking Website
Elvenking @ MySpace