Band: Enfeeble
Titel: Momentum Of Tranquility
Label: Carrycoal
VÖ: 2015
Genre: Melodic Metalcore
Bewertung: 3/5
Written by: Lex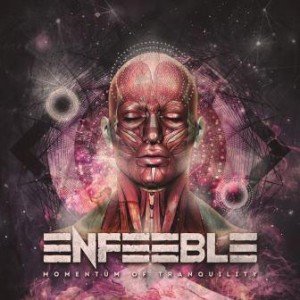 Und wieder gibt es Nachschub für die scheinbar immerhungrige Metalcore-Gemeinde. Enfeeble, bestehend seit dem Jahr 2005 und laut Promo-Info ein "gut gehütetes Geheimnis der deutschen Metalszene", werfen ihr zweites Album "Momentum Of Tranquility" in den Trog des besagten nimmersatten Nischenmarktes.
Unter kräftiger Anspannung des Unvoreingenommenheits-Muskels drücke ich also auf Abspielen und mache mich bereit für zwölf Tracks melodischen Metalcores. Wenn ich meine chronische Abneigung gegen diverse Grundzutaten des Genres beiseite schiebe (der charakteristische Core-Schreigesang in Abwechslung mit klagend-schiefem Klagegesang wird mich wohl nie überzeugen), muss ich echt sagen dass die Songs ganz flüssig daherkommen und bei mir nicht gleich den Skiptastenreflex aktivieren.
Die angezielte Nische hat wieder einen passablen Mitspieler im Mittelfeld dazugewonnen. Daumen leicht nach oben.
Tracklist:
01. Little Change
02. Epidemia
03. Four Eyes Two Hearts
04. Shooting Gallery
05. Middle Of Nowhere
06. Contented
07. Mistress
08. Confined
09. Illusion
10. Farewell
11. Hypnophobia
12. Peripetia
Besetzung:
Lucas (Luke) Brinker (Vocals & Guitars)
Pascal (Baal) Stafflage (Guitars, Backing Vocals &Synth)
Klaus (Wolverine) Boven (Bass)
Christopher (Chris) Grüner (Drums)
Internet:
Enfeeble Website