Band: Essence
Titel: Last Night Of Solace
Label: Noiseart Records
VÖ: 2013
Genre: Thrash Metal
Bewertung: 3/5
Written by: Thorsten Jünemann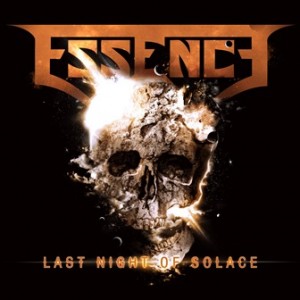 Die Gewinner des "ROCK THE NATION AWARD 2012" ESSENCE präsentieren uns frisch aus dem berühmt berüchtigten Abyss Studio, unter der Ägide des Meisters P.Tägtgren produziert, ihr aktuelles Eisen "Last Night Of Solace".
Aber auch durch den "Veredlungs-Ritterschlag" kann ich dem sehr nach Europa klingenden Thrash Metal nicht mehr als Durchschnitt abringen.
Man hört dem Sound eher die "Tägtgren´sche" Schule raus, aber wirkliche Eigenständigkeit bleibt auf der Strecke, klingen die Songs und auch die Vocals eher nach B-Seiten von KREATOR, was im Fall ESSENCE als Kompliment zu verstehen sein soll.
Denn KREATOR spielen in einer ganz anderen Liga, in der Bands wie ESSENCE stets und ständig mit Abstiegs- und Relegationskämpfen zu tun hätten.
Durch die doch etwas modernere Art des gespielten Thrash, erinnern sie mich auch leicht an DEW-SCENTED, aber auch nicht auf deren Niveau. Wahrscheinlich ist´s einer der Haupteinflüsse der Bandmember…
Fans des Genre sollten mal ein Ohr riskieren, mir ist es einfach zu wenig für einen "ROCK THE NATION AWARD 2012" Sieger…
Tracklist:
01. Intro
02. Final Eclipse
03. Arachnida
04. For The Fallen
05. Children of Rwanda
06. Gemstones
07. Dark Matter
08. Last Night Of Solace
09. Opium
10. Fractured Dimension (Bonus Track)
Besetzung:
Lasse Skov (voc & guit)
Mark Drastrup (guit)
Martin Haumann (drums)
Internet:
Essence Website
Essence @ MySpace