Band: Fall Of Carthage
Titel: The Longed-For Reckoning
Label: MDD Records
VÖ: 27. Januar 2017
Genre: Alternative Metal/New Metal/Modern Metal
Bewertung: 3,5/5
Written by: Peter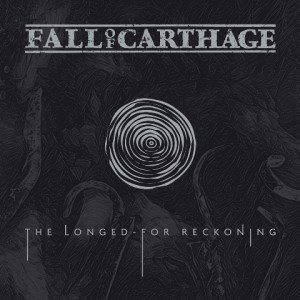 Grundsätzlich sind mir Truppen wie die Deutschen Neu-Metaller von Fall Of Carthage sehr sympathisch. In Österreich würde man sagen, "sie scheißen sich nix" und versuchen, neue künstlerische Wege zu gehen, offen zu sein, mutige Kombinationen zu wagen – so auch auf ihrem Zweitling The Longed-For Reckoning.
Das Teil rotiert bereits seit Ende Jänner in den virtuellen Playern der Fans, daher höchste Zeit für den Probecheck. Was die Truppe bietet, ist nach Promo Thrash und Neo-Thrash. Das ist schon teils wahr, aber vor allem ist das in meinen Ohren Alternative Metal; Sänger Sascha Aßbach kann den Rob Flynn, aber auch – und da wird es wirklich mutig, fast obskur – den Gangsta-Rapper. Kurz, auf nicht weniger denn sechszehn Tracks versucht man sich an Metal, Alternative, etwas Grunge, Rock und auch Hip-Hop wird zur Strecke gebracht. Das ist nun eben mutig, aber vielleicht etwas zu mutig. In meinen Ohren gelingt es nicht, trotz wirklich guter Ansätze (Gesang, Gitarre, Riff-Ideen), das Ganze in einen brodelnden Stahltopf zu verwandeln, der homogen ist.
Tracklist:
01. Fast Forward
02. Dust And Dirt
03. Sick Intentions
04. They're Alive
05. Swept To The Edge
06. Complete
07. For The Soul To Save
08. Whodini Peckawood
09. Suffer The Pain
10. Down Like Honey
11. Tapeworms
12. Paint It White
13. Bury The Crisis
14. Puerile Scumbag
15. Turning Point
16. Black December
Besetzung:
Sascha Aßbach – vocals
Arkadius Antonik – guitar
Martin Buchwalter – drums
Fall Of Carthage im Internet: