Band: Fireleaf
Titel: Behind The Mask
Label: Massacre Records
VÖ: 19.02. 2016
Genre: Power Metal
Bewertung: 4,5/5
Written by: Daniel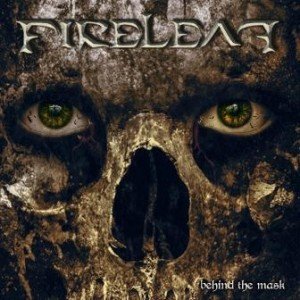 Zwei Protagonisten (Drummer Micha Kasper und Gitarrist Ralf Rieth aka "Stoney") von FIRELEAF waren letztes Jahr noch auf dem umstrittenen Stormwitch – Album zu hören.
Die Idee einer eigenen Band hatte der EX – Tyran Pace Saitenhexer laut eigenen Angaben schon eine Weile, mit seinem Freund Micha sowie dem zweiten Micha (Vetter) und dam Vanish – Sänger Bastian Rose (sehr geiles Organ zwischen Dream Evils Isfeldt und Scheepers!) hat die Idee nun Gestalt angenommen und wurde mit BEHIND THE MASK manifestiert.
Das Konzeptalbum widmet sich, soweit ich es heraus hören konnte (mai inglish is werrie bett…), der Geschichte eines Verrückten der mit der Gesellschaft nicht klar kommt. Viel spannender finde ich aber die Musik, die alles was europäischen Power Metal ausmacht, tatsächlich abdeckt.
Ein amtlicher Banger eröffnet mit Bloody Tears den Reigen großartiger Göttergaben, der fast schon alternative Midtempogroover Monsterman schießt ebenfalls in`s Fadenkreuz. Eher traditionell ist dann Faceless, die Spannweite der musikalischen Ergüsse ist wirklich groß.
Trotzdem zieht sich ein roter Faden durch die 35 Minuten, selbst das halbballadeske Forgiven wirkt da nicht störend.
Die restliche Spielteit versorgt man den Hörer – mit Ausnahme des eher modern rockenden King Of Madness – mit harten Hymnen, denen es aber auch an Eingängigkeit nicht mangelt. Eine fette Produktion untermalt zudem die große Klasse der Scheibe.
BEHIND THE MASK erklimmt auf Anhieb die Regionen, wo man unter anderem Rulebreaker, Whiskey Fingers, Firesoul, War Brigade und My God-Given Right findet. Ganz großes Kino!
Trackliste:
01. Bloody Tears
02. Monsterman
03. Faceless
04. Forgiven
05. Death Throes
06. The Quest
07. Isolation
08. Tales of Terror
09. King of Madness
10. Behind the Mask
Besetzung:
Bastian Rose – vocals
Aki Reissmann – guitar
Ralf Rieth – guitar
Micha Vetter – bass
Micha Kasper – drums
Fireleaf im Internet:
Homepage