Band: Flotsam And Jetsam
Titel: The Cold
Label: Nuclear Blast Records
VÖ: 2010
Genre: Speed/Thrash Metal
Bewertung: 4,5/5
Written by: Chris Egger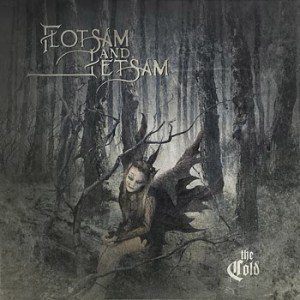 Flotsam And Jetsam sind zurück. Die Band, zu deren Anfangszeiten auch mal ein gewisser Jason Newstedt den Bass zupfte, bringt 5 Jahre nach Dreams Of Death mit The Cold den heiß ersehnten Nachfolger, der nun ein paar Monate nach der Veröffentlichung in den USA auch bei uns erhältlich ist.
Viele werden sich da gleich von Beginn an denken, wo denn der Thrash Metal aus den alten Tagen geblieben ist und woher die leichten Ähnlichkeiten zu Nevermore gekommen sind. Ganz weg sind die Thrash-Einflüsse natürlich nicht – auch wenn diese eher selten vorkommen, das Stück KYA entschädigt da gleich mal. Das soll jetzt natürlich nicht aussagen, dass her schlecht gearbeitet wird – ganz im Gegenteil, The Cold entwickelt sich zu einem der Highlights des heurigen Metal-Jahres. Alleine wie variabel die Jungs aus Phoenix hier arbeiten zeigt, welch großartige Musiker am Werk sind. Neben den bereits erwähnten Nevermore-Elementen gesellen sich auch leichte Fear Factory Klänge (der Beginn von Black Cloud), kleine Ähnlichkeiten zu My Dying Bride (das großartige The Cold) und auch leichte Symphony X Teile. Wenn man sich dann die instrumentale Glanzleistung mit der einmaligen Gitarrenarbeit und den vielen Tempowechseln anhört, kann man sich einfach nur mehr zurücklehnen und genießen. Das Highlight aus meiner Sicht ist aber eindeutig das ruhigste und eingängigste Stück auf dem Album, die Power Ballade Better Off Dead, bei der Ausnahmesänger Eric A.K. eine unglaubliche Leistung abliefert.
Fazit: Ein instrumentaler und gesanglicher Genuss der uns von Flotsam And Jetsam geboten wird. Da kann man nur hoffen, dass uns die Jungs mit diesem starken Output heuer noch die Ehre erweisen und nach Europa kommen.
Tracklist:
01. Hypocrite 04:05
02. Take 04:19
03. The Cold 07:19
04. Black Cloud 04:41
05. Blackened Eyes Staring 04:38
06. Better Off Dead 05:43
07. Falling Short 05:12
08. Always 03:38
09. K.Y.A. 05:26
10. Secret Life 07:03
Besetzung:
Eric "A.K." Knutson (voc)
Edward Carlson (guit)
Jason Ward (bass)
Mark Simpson (guit)
Craig Nielsen (drums)
Internet:
Flotsam And Jetsam Website
Flotsam And Jetsam @ MySpace
Flotsam And Jetsam @ Reverbnation