Band: Freedom Call
Titel: Land Of The Crimson Dawn
Label: SPV / Steamhammer
VÖ: 2012
Genre: Power Metal
Bewertung: 3/5
Written by: Michael Kasuba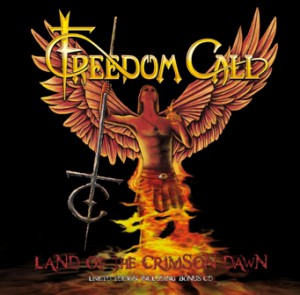 Die Band mit dem Namen Freedom Call dürfte mittlerweile jedem Fan von Heavy Metal bzw. Power Metal ein Begriff sein. 1998 gegründet blickt die Band um Chris Bay auf ihr nun siebtes Album zurück.
Ein paar Besetzungswechsel konnten dem Erfolg der Jungs nicht schaden und so touren sie aktuell mit ihrem Werk: Land Of The Crimson Dawn. Verpasst nicht die Möglichkeit sie live zu erleben!
Obwohl ich die Band vom Namen her schon ewig kenne, sei es aus dem CD-Regal beim örtlichen Händler oder aber Werbeanzeigen in Magazinen und Shops, muss ich gestehen: wirklich befasst habe ich mich bisher mit der Band noch nie. "Kein Interesse" zu haben stellt sich aber spätestens jetzt, als Fehler heraus.
Mit Land Of The Crimson Dawn handelt es sich um ein gutes Album, das bei Neueinsteigern (in Sachen Freedom Call) deutlich Lust auf mehr weckt. So muss ich mir bei Gelegenheit doch die alten Werke noch kaufen.
Zum aktuellen Album: Solide Produktion und die professionellen Musiker liefern eine hervorragende Qualität.
Eine gute Platte, die ich jedem Fan von Helloween, Gamma Ray oder Primal Fear, also deutschem Metal nur ans Herz legen kann.
Tracklist:
01. Age of the Phoenix 3:37
02. Rockstars 5:08
03. Crimson Dawn 6:29
04. 66 Warriors 5:20
05. Back into the Land of Light 5:39
06. Sun in the Dark 4:49
07. Hero on Video 3:50
08. Valley of Kingdom 4:32
09. Killer Gear 4:42
10. Rockin` Radio 4:13
11. Terra Liberty 4:09
12. Eternity 4:23
13. Space Legends 4:04
14. Power & Glory 3:30
Besetzung:
Chris Bay (voc & guit)
Lars Rettkowitz (guit)
Samy Saemann (bass)
Klaus Sperling (drums)
Internet:
Freedom Call Website
Freedom Call @ MySpace