Band: Ghost Iris
Titel: Anecdotes Of Science & Soul
Label: Prime Collective
VÖ: 2015
Genre: Metalcore, Progressive Metal
Bewertung: 2,5/5
Written by: Thorsten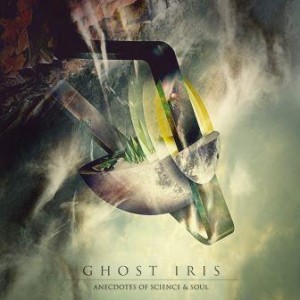 2012 gegründet, versuchen die Dänen GHOST IRIS mit ihrem Debüt "Anecdotes Of Science & Soul" extrem in Richtung Tesseract / Periphery zu klingen, und Einflüsse von Monument & Co. sind auch nicht zu verleugnen. Doch ein wirklich selbstgekochtes Süppchen kommt dabei nicht wirklich raus, klingt es doch wie beinahe sämtliche Metalcore-Combos, die zu Ihrem Krach noch ein paar gelungene Breaks einbauen und das ganze Djent oder progressiven Metalcore nennen.
Das wirkt mir alles zu einfach, bereits zu oft gehört!
Der stete Wechsel zwischen Growls und Clean Vocals (früher hiess das mal Rülpsgrunz und Gesang!!!) funktioniert recht gut, auch an den Instrumenten sind keine Anfänger am Werke (den einen und anderen kennt man aus Bands wie z.B. As We Fight, Road To Manila,…).
Aber trotzdem fehlt etwas, um das Album wirklich loben zu können.
Mir fehlt einfach die Genialität zwischen brutalem und progressiven Zusammenspiel.
Die Genialität, mit der sich Bands wie die genannten einen Namen in der Szene machen konnten.
Dann höre ich lieber die Originale, denn ein kreativer Jungbrunnen-Output ist das nicht.
Genrefreunde sollten sich das Album mal ans Ohr halten, mir persönlich geben die Dänen aber nichts.
Es jetzt verschwendete Zeit zu nennen, wäre zu weit hergeholt…
…aber ich hätte in der Zeit bedeutend bessere Musik hören können.
Das hier ist für mich absoluter Durchschnitt, der sich eher im hinteren Teil bewegt!
Tracklist:
01. Dreamless State
02. Influx
03. Phalanx
04. Immaculate
05. Dream Catching A Nightmare
06. Magenta Pt. 1: Perfect Symbiosis
07. Magenta Pt. 2: Astral Projection (Feat. Mirza Radonjica)
08. Parallel Passage
09. Euphoric State
10. Everlasting Bliss
Besetzung:
Jesper Vicencio Gün (voc)
Nicklas Grønlund Thomsen (guit & bass)
Peter Lykkeberg Larsen (guit & bass)
Sebastian Linnet (drums)
Internet: