Band: Golden Resurrection
Titel: One Voice For The Kingdom
Label: Liljegren Records/Doolittle Group
VÖ: 2013
Genre: Melodic Metal
Bewertung: 3/5
Written by: Thorsten Jünemann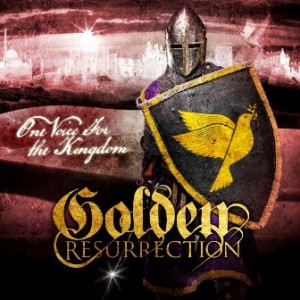 Was tun schwedische Musiker, wenn sie Langeweile oder mal keinen Job haben?
Genau, sie gründen mit anderen Musikern ähnlichen Hintergrunds eine neue Band und zimmern in diesem Fall eine "Neoclassical Power Metal" Scheibe ein, was auch immer das wieder für eine Sparte sein soll…
Die Musiker kommen aus den Reihen von NARNIA, DIVINEFIRE, AUDIOVISION & REINXEED und haben die Fans von Malmsteen, Stratovarius, DIO, Rainbow, u.v.m. im Visier.
"One Voice For The Kingdom" ist bereits die 4. Veröffentlichung der seit 2010 bestehenden christlichen Band (dementsprechend christliche Texte), EP mitgerechnet.
Anstatt "Neoclassical Power Metal" würde ich die Musik eher als Melodic Power Metal beschreiben und die Vergleiche mit Malmsteen & Stratovarius liegen schon recht nah, aber nicht im negativen Sinn.
Exzellente Musiker aber leider nur durchschnittliches Machwerk und so plätschern die Songs ohne großen Wiedererkennungswert an mir eher vorbei.
Nicht schlecht anzuhören, was Christian Rivel & Tommy Reinxeed hier bieten, aber auch nicht gut genug, um über den Durchschnitt zu landen.
Fans der Band und den agierenden Musikern in diesem Konglomerat werden gut bedient sein, wenn sie die Möglichkeit nutzen, erst mal ausgiebig in das Album reinzuhören.
Tracklist:
01. The Temple Will Remain
02. Spirit War
03. One Voice For The Kingdom
04. Night Light
05. Golden Resurrection
06. Can't Slow Down
07. Heavenly Metal
08. God's Mercy
09. Born For The Strangers
10. Moore Lord
Besetzung:
Steven K (bass)
Christian Liljegren (guit)
Tommy Reinxeed (guit)
Svenne Jansson (keys)
Alfred Fridhagen (drums)
Internet:
Golden Resurrection Website
Golden Resurrection @ Facebook
Golden Resurrection @ YouTube