Band: GRAVEYARD AFTER GRAVEYARD
Titel: Bagged and Dragged to a fullmoon Burial
Label: Go fuck yourself Records
VÖ: 2014
Genre: Death/Thrash Metal
Bewertung: 4,5/5
Written by: Mayhemer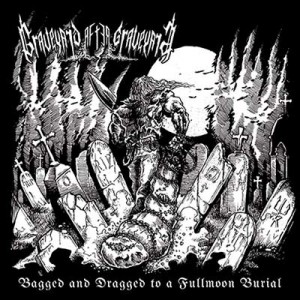 Die Promoscheibe der noch recht jungen Band Graveyard after Graveyard flatterte mir schon letztes Jahr Mitte Dezember ins Haus. Tja, dann kam mein Urlaub, der mich 3 Wochen ins Ausland führte und danach habe ich, zu meiner Schande, die CD fast vergessen. Zum Glück aber nur fast, denn die drei Jungs haben es verdammt noch mal wirklich drauf. Es sind ja auch keine Unbekannten, aber das Wort Supergroup möchte ich hier (noch) nicht in Erwägung ziehen. Unter anderem spielt Bassist und Sänger Rogga Johansson bei Paganizer, Bonegnawer, Those who bring the Torture usw; Gitarrist Mika Lagrén zupft die Saiten bei Grave und Schlagzeuger Jocke Ringdahl schwingt die Stöcke nicht nur bei Graveyard after Graveyard, sondern auch bei Paganizer.
Zurück zur Full Length Debut CD: Bagged and Dragged to a Fullmoon Burial enthält neben feinst gespielten Trash und Death Metal auch viel Groove und der geneigte Hörer kann gar nicht anders als im Rhythmus seinen Kopf zu schwingen und seinen Körper zu bewegen. Ja, es wird sich der Hörer auch dazu bewegen, die Musik freiwillig bis zu Anschlag aufzudrehen. Das Debut, dass auch sämtliche Stücke der anfang 2014 veröffentlichten, selbstbetitelten  7″ EP enthält, ist ein genretypisches, meisterhaft umgesetztes Debut, dass es verdient hat bei vielen Fans im CD- Regal zu stehen. Natürlich gilt hierfür auch der OFFIZIELLE Download! Rock on
Tracklist:
01. As The Coffin Swings Open
02. Hellfire Overdose
03. Discharged in Hell
04. The Giant Tomb
05. Speed Metal Machine
06. Nuclear Domain
07. Watch Them Burn
08. Out Of The Crypt (And Into The Night)
09. Still At War
10. Condemned To Burn
11. S.T.D.
Besetzung:
JOCKE RINGDAHL : DRUMS
MIKA LAGREEN : SOLO GUITAR
ROGGA JOHANSSON: GUITAR,VOC,BASS
Internet:
GRAVEYARD AFTER GRAVEYARD @ Facebook