Band: Hammer Fight
Titel: Profound And Profane
Label: Napalm Records
VÖ: 2016
Genre: Heavy/Thrash Metal
Bewertung: 3,5/5
Written by: Ronja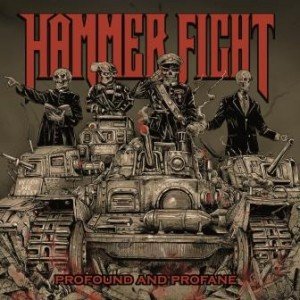 Es kümmert sie nicht, ob du sie Thrash Metal, Thrash`n`Roll oder Hard Rockin' Heavy Metal nennst. Die Rede ist von den in Atlantic City, New Jersey, beheimateten "Hammer Fight". Auf dem Debüt des Quartetts, "Profound And Profane" wird dreckiger Rock mit klassischem Metal, Thrash, Speed, Punk und Hardcore vermischt.
Starke, in den Vordergrund gedrängte Drums und eine rauchig heisere Stimme, die man sich als Mix zwischen Lemmy und Liam Cormier von den "Cancer Bats" vorstellen kann, nehmen uns in den ersten Sekunden in Empfang. Die Gitarren riffen sich immer mal wieder in den Speed Metal hinein, jedoch bleibt hier und da die Melodie und die Abwechslung beim Songwriting auf der Strecke. Dennoch muss man zugeben, dass das Debüt von "Hammer Fight" ein mächtiger Anfang in eine knallharte, rotzige und wuchtige Richtung ist, die zwar noch ausbaufähig wäre, aber einen gewaltigen Start an den Tag legt.
Alles in Allem ist "Profound an Profane" ein sehr gut gelungenes Album, das ganz ordentlich knallt und auch mehrere Male im Player landen kann, wenn auch manchmal nur zum "nebenbei Hören".
Fazit: Eine passende Scheibe für Fans des verruchten Heavy- und Thrash Metal. Aber auch sehr gut für Workouts und Aggressionsabbau für so manche besch****…nicht so gelungene Tage geeignet. 😉
Lineup:
Drew Murphy – Bass, Vocals
Todd Stern – Guitar
Dan Higgins – Guitar
Justin Spaeth – Drums

Tracklist:

01. Picking Up Chance
02. Target Acquired
03. Into The Dark
04. Good Times in Dark Ages
05. Gods of Rock 'n' Roll
06. Low & Broken
07. Private Stock
08. The Ultimate Sacrifice
09. Cell Mates
10. West Side Story
11. The Crate
12. Cult Of Conceit
Internet: