Band: Harmony
Titel: Theatre Of Redemption
Label: Ulterium Records
VÖ: 28. November 2014
Genre: Melodic Metal
Bewertung: 4/5
Written by: Lazer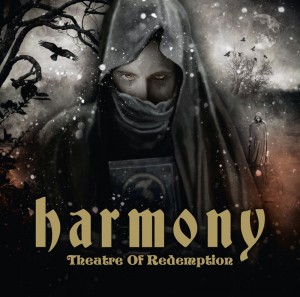 Bereits im Jahre 2000 gegründet, legen die Melodic Metaler von Harmony im November diesen Jahres ihr drittes Album auf den Ladentisch.
Der Neuzuwachs im CD-Regal heisst Theatre Of Redemption und umfasst zehn Tracks mit einer Spielzeit von rund 51 Minuten.
Besetzungswechsel hin – Besetzungswechsel her. Die Frage nach dem "Warum" es in 14 Bandjahren nicht mehr Alben von Harmony gibt, sollte geklärt sein.
Nichts desto trotz, ist ihr neuestes Werk recht ansprechend. Sehr melodieverbunden und coole Rhythmen verleihen Theatre Of Redemption eine gewisse Klasse. Handwerklich sind die Mannen aus Schweden sehr ordentlich. Regelrecht detailverliebt zelebrieren Harmony ihre Refrains und Bridges. Starke Riffs und griffige Drums begleiten einen sicheren und punktgenauen Vocalisten. Teilweise blitzen kleine Geniestreiche wie zum Beispiel die Untermalung mit orchestralen Passagen hervor. Die ein oder andre Hymne dürfte sich im Laufe mehrmaligen Anhörens dieser Platte auch herauskristallisieren.
Mein Fazit: Schon sehr gelungenes Album, wenngleich es nicht der ultimative Hitlieferant ist. Technisch einwandfreie Produktion die sehr detailverliebt und mit großen Arrangements aufwarten kann. Für Fans von melodischem Metal, könnte Theatre Of Redemption schon sehr interessant sein.
Tracklist:
01. The Window Of My Soul
02. Inhale
03. Crown Me King
04. Son Of The Morning
05. What If
06. Theatre Of Redemption
07. Bloodbound
08. You Are
09. Hands Of Time
10. In Search Of
Besetzung:
Tobias Enbert – Drums
Markus Sigfridsson – Guitars
Daniel Heiman – Vocals
John Svensson – Keybords
Raphael Dafras – Bass
Internet:
Harmony Website
Harmony @ Youtube