Band: Havok
Titel: Unnatural Selection
Label: Candlelight Records
VÖ: 2013
Genre: Thrash Metal
Bewertung: 5/5
Written by: Thorsten Jünemann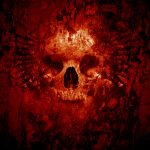 Die Oldschool-Thrasher HAVOK aus Denver/USA veröffentlichen am 24.06.2013 ihr 3. Album "Unnatural Selection", welches mit der Hilfe von Terry Date (Pantera, Overkill,…) gemixt wurde, und von James Murphy (Aborted, World Under Blood,…) gemastert wurde.
Fakten, die für den guten Sound sprechen, der den Mischmasch aus Bay-Area und alten deutschen Thrash-Recken perfekt unterstreicht.
Verdammt, das klingt zu abwertend, und das soll es überhaupt nicht sein, denn Langeweile kommt zu keiner Sekunde auf, wenn das knapp 48minütige Werk doch auch abwechslungsreich klingend durch die Membranen groovt. Der Brüller schlechthin ist das Black Sabbath Cover "Children Of The Grave", welches anstatt doomig sondern astrein thrashig verwurstet erklingt.
Ob nun eigenes Songmaterial oder gecovert:
HAVOK haben alles richtig gemacht und bieten Fans des gepflegten Thrash ein Album, welches noch für lange Zeit (auch eine breitere Masse) begeistern wird, und der "Konkurrenz" vermittelt, sich warm anzuziehen, denn mit HAVOK sollte zukünftig noch viel mehr gerechnet werden…
Tracklist:
01. I Am the State 04:05
02. Give Me Liberty… Or Give Me Death 04:43
03. It Is True 04:49
04. Under the Gun 04:18
05. Waste of Life 06:12
06. – 04:59
07. Chasing the Edge 05:03
08. Worse than War 04:57
09. Children of the Grave (Black Sabbath cover) 04:39
10. Unnatural Selection 04:16
Besetzung:
David Sanchez (voc & guit)
Pete Webber (drums)
Reece Scruggs (guit)
Michael Leon (bass)
Internet:
Havok Website
Havok @ MySpace