Band: Headcrusher
Titel: Death Comes With Silence
Label: Self-Released
VÖ: 28. Juli 2017
Genre: Thrash Metal
Bewertung: 4/5
Written by: Lazer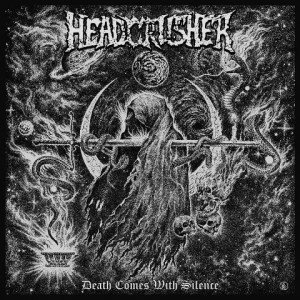 Wir nutzten in unserer Redaktion die kurze Sommerflaute und erhitzten uns mit dem brandneuen Output "Death Comes With Silence" von Headcrusher aus Kolumbien die Raumtemperatur.
Ihr bereits drittes Full-Length Album seit Bestehen (2001) knallen die Kolumbianer von Headcrusher Ende des Monats auf die Ladentische eures Vertrauens. Gespickt mit elf Tracks (ein Bonus Track) die irgendwo zwischen Thrash Metal und Hardcore angesiedelt sind, sind tatsächlich ein richtig heißes Eisen.
Von Beginn weg zeigen die Herren aus Südamerika (die mittlerweile eher in Texas Fuß fassen) dass "Death Comes With Silence" kein langweiliges Gastspiel ist, sondern ziehen die Zügel sofort straff und thrashen und dreschen sich durchs Unterholz. Die Riffs sägen wie Sau und die Drums walzen unaufhaltbar gen Ende der Menschheit. Die Hardcore-Einflüsse lassen sich definitiv nicht leugnen, nehmen aber nicht Überhand, sodass man immer noch von einer sehr gekonnten Mischung sprechen kann. Die groovigen Rhythmenwechsel lockern das Gesamte wunderbar und man bekommt niemals das Gefühl der Langeweile. Wenn man sich nämlich schon in sicheren Gewässern glaubt, schlägt Kike Valderrama am Mikrophon unbarmherzig zu und der Thrash-Hurricane legt von neuem los.
Ab und An blitzen dann auch noch sehr melodische und eingängige Passagen mit ruhigen Melodien und fast klarem Gesang durch. Diese "Ruhephasen" machen "Death Comes With Silence" authentisch und sehr sympathisch.
Mein Fazit: Headcrusher erschaffen mit ihrem neuesten Album "Death Comes With Silence" ein richtiges Feuerwerk an Thrash und Hardcore Elementen. Eine richtig tolle Platte die gerne gekauft werden darf. Diese Scheibe ist nichts Alltägliches und hat Kraft und Power. Respekt.
Tracklist:
01. Ignis Fatuus
02. Seismal
03. A Plague Upon Us
04. Black Hearted Demons
05. Trails Of Devastation
06. Intermission
07. Fatal Error
08. Eternal Butchery
09. Death Comes With Silence
10. I Am Death
11. Gritos Del Sur (Bonus Track)
Besetzung:
Kike Valderrama – Vocals
Carlos Ramirez – Guitars
David Coloma – Guitars
Gustavo Calderon – Bass
Alejandro Ospina – Drums
Internet:
Headcrusher Website