Band: Heretic's Dream
Titel: Floating State Of Mind
Label: Sliptrick Records
VÖ: 12. Februar 2016
Genre: Progressive Rock/Metal
Bewertung: 2/5
Written by: Lazer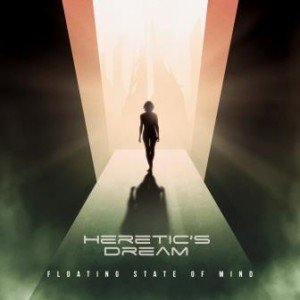 Seit 2010 besteht die Combo Heretic's Dream nun schon. Nun veröffentlichen die Italiener ihr drittes Full-Length-Album. "Floating State Of Mind" nennt sich das gute Teil und umfasst zehn Songs.
Heretic's Dream – seines Zeichens im Prog-Rock/-Metal beheimatet, versuchen uns in knapp 42 Minuten von ihrem Stil zu überzeugen. Ganz will ihnen das aber nicht gelingen. Auch nach knappen 120 Minuten, will sich keine Euphorie breit machen, oder gar ein Luftsprung andeuten. Es zeichnet sich auch nach mehrmaligem Hören einzelner Songs kein Jubelausbruch ab.
Dass Prog-Rock oder Prog-Metal etwas schwieriger zu verdauen oder zu verarbeiten ist, als eventuell eine Heavy Metal Produktion von Hammerfall, ist schon klar. Jedoch kann das hier dargebotene Material von Heretics Dream nicht wirklich überzeugen.
Die Ansätze sind auf jeden Fall gut, und es deuten sich ab und an auch richtig leckere Passagen und gar Phasen an, jedoch wirkt insgesamt alles zu lasch. Allem voran, wirkt die Vocalistin zu schwach beziehungsweise besitzt zu den teilweise harten Riffs zu wenig Durchschlagskraft. Desweiteren wirken einzelne "Rap-Passagen" des männlichen Intonierers (wer auch immer diese eingesungen haben mag) einfach nur deplatziert.
Mein Fazit: Ziemlich lahme Nummer hier. "Floating State Of Mind" wird allerhöchstens wahre Progressive Fanatiker auf den Plan rufen. Für alle Anderen wird dieser Kauf wohl eher ein Griff ins Klo.
Tracklist:
01. FaceThe Agony
02. Pilgrim
03. Master Your Demons
04. Soul Driven
05. Hide Yourself
06. Momentum
07. Secret Place
08. Walk Alone
09. Golden Cage
10. A New Season
Besetzung:
Francesca Di Ventura – Vocals
Andrej Surace – Guitars
Alex Alberti – Keyboards
Emiliano Baccini – Bass
Alfonso Mocerino – Drums
Internet:
Heretics Dream Website