Band: HIC IACET
Titel: The Cosmic Trance into the Void
Label: Iron Bonehead Productions
VÖ: 2015 Genre: Black Metal/Death Metal
Bewertung: 0/5
Written by: Mayhemer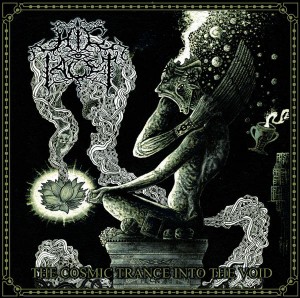 HIC IACET ist Latein und heißt übersetzt "hier liegt". Und genau das sollte diese Band machen. Liegenbleiben. Nichts mehr machen. Keinen Finger mehr rühren. Wie hat es diese Band geschafft, einen Deal zu erhalten? Manchmal frage ich mich da so einiges… . Selbst für einen eingefleischten Black Metal Fan, der sich in Underground Mucke nur so dahingibt und dabei die schönsten Orgasmen hat, wird dieses Gebräu aus Langeweile und Herzstillstand zu viel sein. "Die Kosmische Trance in eine Leere"… Ja, da liegt HIC IACET gar nicht mal so falsch. Ich bin auf alle Fälle in Trance verfallen, dabei habe ich in eine gähnende Leere des Songwritings gesehen und musste aufpassen, dass ich beim Autofahren meine Karre nicht freiwillig gegen einen Baum setzte. Also sowas Schreckliches, dass sich auch noch Musik schimpfen darf (ehrlich gesagt: Es darf sich nicht Musik schimpfen – das kann ja jeder Vollidiot!), ist mir in meiner bisherigen Laufbahn als Hörer noch NIE, NIEMALS untergekommen. Und immerhin höre ich Musik im Allgemeinen schon mein Leben lang…. Falls jemand nun auf die Idee kommt und meint, ich hätte den Sinn dieses Albums und der Band nicht verstanden: Es ergibt einfach keinen Sinn. Und Punkt. Wenn es Minuspunkte gäbe, hier würde ich viele davon ohne schlechtem Gewissen vergeben.
Tracklist:
01. The Cosmic Trance Into the Void
02. Infinite Consciousness
03. Death in the Abyss of Meditation
04. Into the Bowels of the Absolute
05. Mahakala
06. The Catacombs of the Mandala