Band: Hollow Haze
Titel: Memories Of An Ancient Time
Label: Scarlet Records
VÖ: 09. Juni 2015
Genre: Melodic Metal
Bewertung: 4,5/5
Written by: Lazer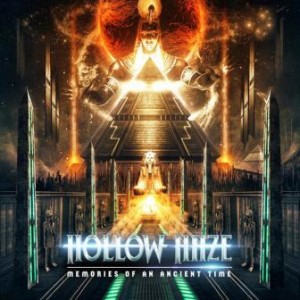 Die seit 2003 bestehende Combo Hollow Haze erfreuen uns diesen Monat mit ihrem sechsten Album Memories Of An Ancient Time.
Bei der Besetzung gibt es einige Neuigkeiten. So wurde der ehemalige Sänger Fabio Lione gleich durch mehrere Gästevocalisten ersetzt. Dies scheint sich auf jeden Fall wunderbar bezahlt zu machen. Nicht nur, instrumental klingen Hollow Haze dezent erfrischender als auf ihren Vorgängeralben, sondern konnten sie diesmal wirklich tolle SängerInnen für ihr neues Werk verpflichten. Niemand geringerer als Mats Levén (Therion), Rick Altzi (Masterplan) und Amanda Somerville (Avantasia) verleihen Memories Of An Ancient Time eine ganz besondere Klasse. Es scheint, als hätten Hollow Haze mit dem Besetzungwechsel auch ihre Zurückhaltung abgelegt und spielen auf diesem Album ihr gesamtes Können aus. Die Arrangements sind nahezu bombastisch und durchdacht. Das Songwriting wurde dezent perfektioniert, sodass man auf Memories Of An Ancient Time geradlinige und absolut kraftvolle zwölf Tracks behören darf. Hollow Haze schaffen eine tolle Atmosphäre und können mit echten Power Metal Stücken punkten.
Mein Fazit: Memories Of An Ancient Time hat alles, was man sich als Melodic Metal-/Power Metal-Fan wünscht. Stimmlich kraftvoll und einfühlsam zugleich. Instrumental legt man nahezu geniale Riffs und Melodien auf, und die Gesamtarrangements machen aus der ganzen Platte ein einziges Highlight.
Tracklist:
01. Out In The Darkness (Intro)
02. Rain Of Fire Lights
03. Created To Live
04. An Ancient Story
05. A New Era
06. Night Is Calling
07. Angeli Di Fuoco
08. Silvertown
09. Eyes Of The Sphinx
10. Lance Of Destiny
11. Demon
12. Gate To The Eternity
Besetzung:
Nick Savio – Guitars
Dave Cestaro – Bass
Camillo Colleluori – Drums
Gäste:
Mats Levén (Therion, Swedish Erotica, Krux)
Rick Altzi (Masterplan)
Amanda Somerville (Avantasia)
Internet:
Hollow Haze Website