Band: In Sanity
Titel: Gates Of Insanity
Label: Selfreleased
VÖ: 2014
Genre: Melodic Death Metal
Bewertung: 2,5/5
Written by: Daniel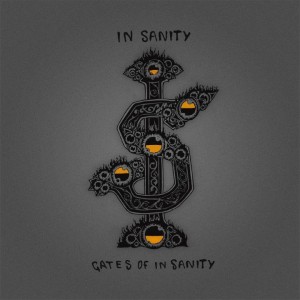 Die Paderborner Death Metaller bieten auf ihrem Debüt eine moderne Variante des Göteborgsounds, die in etwa mit In Flames vor ihrer Popphase (also zu Reroute To Remain/Sounds Of A Playground Fading Zeiten) vergleichbar ist. Leider klingt Gates Of Insanity größtenteils zu unausgehoren. So ist dieses Debüt doch arg In Flames gesteuert, klingt der Cleangesang auf dem gesamten Album zu sehr nach Presswurst und auch die Kompositionen sind nicht besonders aufregend, da man hier jeden Song entweder von den Bodenseekindern oder den ehemaligen Metallern schon besser gehört hat. Wer allerdings von Siren Charms entäuscht ist, dürfte sich mit Songs wie Dark Memories, Outside The Clouds, Bloodline, Humanity 2.0 und Close Distance zufrieden geben.
Trackliste:
01. Open the Gates
02. Gates of Insanity
03. Pain of Despair
04. Dark Memories
05. Outburst in Ashes
06. Outside the Clouds
07. Words Unsaid
08. Bloodline
09. Humanity 2.0
10. Fear and Reason
11. These Connected Minds
12. Enduring Changes
13. Close Distance
Besetzung:
Erik Sollmann (vocals)
John Turner (guitar, backing vocals)
Grigoriy Golomanov (guitar)
Andrey Aatafiev (bass)
Richard Pahl (drums)
In Sanity im Netz:
Homepage