Band: Iron Curtain
Titel: Guilty As Charged
Label: Pure Steel Records
VÖ: 14.10. 2016
Genre: Speed/Heavy Metal
Bewertung: 4/5
Written by: Daniel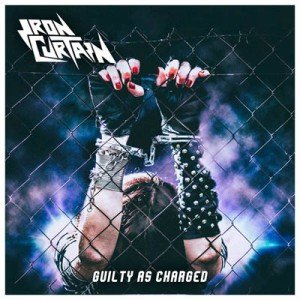 Faustregel Nummer eins bei der Namensfindung:
Mit "steel" oder "iron" im Namen ist die halbe Miete drin, weil der geneigte Konsument aufmeksam wird.
Bei den aus Murcia stammenden IRON CURTAIN hat das vor gut vier Jahren gut funktioniert, denn das Debüt Road To Hell rotiert noch heute auf meinem Plattenteller. Der Grund ist damals, neben dem Cover, die musikalische Ausrichtung gewesen.
Die Einflüsse Motörhead, Tyrant, Exciter und Tank, sprich uriger NWOBH/Speed Metal in reinster, roher Form erschufen ein Album, welches bis heute in elitären Kreisen abgefeiert wird und jeglichen Punkterahmen für absolute Puristen sprengt.
Das ein Jahr später erschienene zweitwerk Jaguar Spirit konnte daher nur enttäuschen. Mir war es zu melodisch, eine leichte Verschiebung hin zu den genretypischen, markanten Zwillingsgitarren und relativ melodiösen Elementen prägten das ebenfalls sehr starke, jedoch etwas andere Album.
Dem unweigerlichen Aufstieg der Band tat dies natürlich keinen Abbruch, so dass man mit Pure Steel Records und dem dritten Streich einen weiteren Schritt nach vorne macht. Doch wie klingt GUILTY AS CHARGED nun? Mehr nach dem phänomenalem Debüt, wie es die Single Outlaw andeutete? Oder geht man den Pfad des Zweitwerks weiter?
Fragen über Fragen, die es zu beantworten gilt.
Über den "make it or break it" Scheiß braucht man dabei nicht zu schwafeln, denn Kenner wissen, diese Band macht vor allem eines:
SIE MACHT ES EINFACH!
Und das, wie erwartet, abermals superb.
Album Nummer drei ist dabei zu einer Art "Kompromiss" geraten, ein halber Schritt zurück. Quasi ein Tank meets Jaguar Gipfel, der durch die Bank überzeugt.
Stellvertretend dafür stehen Into The Fire, Take It Back, Wild & Rebel und der Titeltrack, die (als Anspieltipps genannt) ausnahmslos jeden überzeugen sollten.
Outlaw und Iron Price sowie der CD Bonus Turn The Hell On sind dagegen mehr in der Tradition des Debüts, während das relativ langsame Relentless einen für die Band ungewöhnlich starken Grave Digger/Accept – Anstrich aufweist.
Ansonsten ist auch der dritte Streich aus Spanien ein absoluter Volltreffer, gespickt mit Partyknallern und ausnahmslos empfehlenswert für traditionelle Metaller.
Eine Frage bleibt indes offen:
Ist Frontmann Mike zufällig verwandt mit Lemmy?
Trackliste:
01. Into The Fire
02. Lion's Breath
03. Take It Back
04. Relentless
05. Iron Price
06. Outlaw
07. Wild & Rebel
08. Guilty As Charged
09. Turn The Hell On
Besetzung:
Mike Leprosy – Gesang, Gitarre
Cachorro – Gitarre
Joserra – Bass
Alberto – Schlagzeug
Iron Curtain im Internet:
Blogspot