Band: Junkyard Drive
Titel: Sin & Tonic
Label: Mighty Music
VÖ: 17.02.2017
Genre: Sleaze Rock
Bewertung: 4/5
Written by: Rubi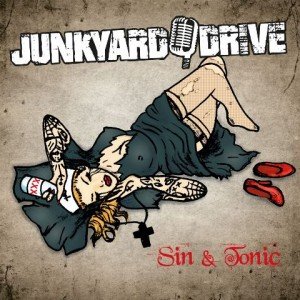 Das Covern des irischen Volksliedes "Geordie", katapultierte "Junkyard Drive" direkt in die iTunes Top 10. Auch in ihrem Heimatland Dänemark wurde der Song zum Radiohit. Nun stellen sie sich mit ihrem Debutalbum "Sin & Tonic", ihrer bereits soliden Fanbase vor.
Die Musik erinnert sehr an 80er Rock 'n Roll. Konkret erinnerten mich einige Songs an "Whitesnake" und teilweise auch an "Guns 'n Roses". Trotz der bestehenden Vergleiche, hat die Truppe doch einen eigenen Stil, den man definitiv hört. Die Vocals und die sehr unterhaltsame Musik, harmonieren perfekt zusammen.
"The lyrics are referring to a society where people are "experiencing" concerts through a smartphone instead of using their eyes, ears and brain.", erklärt die Truppe die Thematik der Scheibe. Diese Aussage unterstreicht der Titel "Slave To Technology". Auch wenn diese Idee hinter den Tracks interessant klingen mag, geht es die meiste Zeit offensichtlich um das stereotypische Bild der Rockmusik: Sex, Drugs & Rock 'n Roll. Auch zu sehen am Albumcover. Vielleicht schaffen sie es ja, mit  stadionreifen Tracks wie "If You Wanna Rock Me", "Bone Dry Jessie" und "B.A.D.", dass Publikum dazu zu bringen, ihre Handys einzuschieben und die Musik zu genießen.
Zu meinen persönlichen Favoriten zählen: "Geordie", "If You Wanna Rock Me" und "B.A.D."

Tracklist:
1. If You Wanna Rock Me
2. Bone Dry Jessie
3. Drama Queen
4. Natural High
5. Take It All
6. B.A.D
7. Danger Zone
8. Stone Cold Lady
9. Geordie
10. Slave To Technology
Besetzung:
Kris – Lead Vocal
Birk – Lead Guitar/Backup Vocal
Benjamin – Rhythm Guitar/Backup Vocal
Mikkel – Bass
Claus – Drums/Cowbell
Internet: