Band: A Breach Of Silence
Titel: Secrets
Label: Eclipse Records
VÖ: 24.02.2017
Genre: Metalcore
Bewertung: 4/5
Written by: Rubi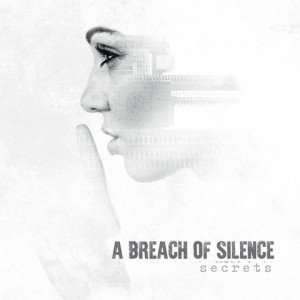 Ins Scheinwerferlicht rückte die australische Truppe, als sie 2012 den Q Music Award in der Kategorie "Best Heavy Song" erlangten. Kurz danach unterschrieben sie einen Vertrag bei "Eclipse Records". Auf Tour war die Band schon mit Größen wie "Born of Osiris", "Adept", "The Amity Affliction" und "Upon a Burning Body".
Um sich ihrem einzigartigen Sound, einer Mixtur aus modernem Metalcore und Powermetal Vocals, wiederholt beweisen zu können, holten sie die zwei erfolgreichen Produzenten Fredrik Nordstrom und Henrik Udd ("Bring Me the Horizon", "Arch Enemy", "In Flames"), mit ins Boot.
"This is a message for the youth of our nation
You need to see through the walls they create
Look through the window to see the perception
Nightcrawler's preach nothing but hate
We exist in this life wasting away
Your opinions are blind cause you take what they say
And I mean when I say judgement occurs of you everyday
Like a shark you swim in the dark as you rip us apart
But as a cage you will never take me you will never break me
I need you all to let it go…"
Diese Zeilen aus dem Titel "Nightcrawler's", unterstreichen die Geschichte der Platte perfekt. Textbezogen haben sie sich definitiv weiterentwickelt. Die Lyrics können immer von anderen Seiten beleuchtet werden und geben der Scheibe somit viel mehr Freiraum für Eigeninterpretationen.
Gleich zwei total überraschende Titel wurden auf das sonst Genretreue Album gepackt. Ein Coversong namens "Shameless". Das Überraschende dran? Das Original stammt vom kanadischen R&B Musiker "The Weeknd". Der 2. Überraschungstrack, "Sugar and Spice", ist ein weiterer Genreausreißer – ein Hair Metal Track aus den 80ern.
Meine persönlichen Favoriten: "The Revelator", "Nightcrawlers" und "Buzz Killington".
"A Breach Of Silence", haben sich auch auf diesem Album wiederholt bewiesen. Zwar einen Tick ruhiger als die Vorgängeralben, dennoch stilgetreu und auf jeden Fall höhrenswert!
Tracklist:
01. Falling Away
02. Ride Or Die
03. Undefeated
04. Secrets
05. Nightcrawler
06. Fair Weather Friends
07. Buzz Killington
08. The Revelator
09. A Better Place
10. Broken
11. Shameless ( Original – The Weeknd )
12. Dethroned
13. Sugar And Spice
Besetzung:
Rhys Flannery Lead Vocals
Mat Cosgrove – Guitar
Blair Layt – Bass/Vocals
Kerrod Dabelstein – Guitar
Michael Gee – Drums
Internet: