Band: KATAKLYSM
Titel: MEDITATIONS
Label: Nuclear Blast Records
VÖ: 01.06.2018
Genre: Death Metal
Bewertung: 4,5/5
Written by: Maze P.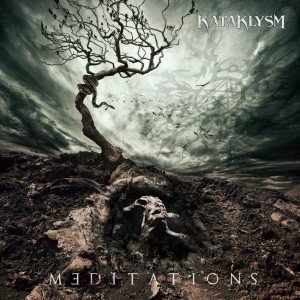 Seit über einem Vierteljahrhundert überschwemmt das monumentale Flaggschiff KATAKLYSM die Welt mit gewaltigem, kraftvollem Death Metal. Seit Ihrer Gründung im Jahr 1991 entfesseln sie Musik, die Einflüsse aus der der antiken Menschheitsgeschichte wie auch den grundlegenden Instinkten der sterblichen Emotion bezieht. Warum KATAKLYSM nicht nur überleben, sondern seit Jahrzehnten kontinuierlich Erfolge feiern verdanken Sie ihrer unglaublichen Fähigkeit, die dunkelsten Abgründe und verschlungensten Pfade menschlicher Natur durch ihre Musik zu ergründen und diese ständig auf extrem hohen musikalischen Niveau umzusetzen. Und natürlich auch den großen Plattenfirmen.
Auf Meditations nähert sich die Band einer neuen Ära an, die eine noch melodischere Dynamik entwickelt, bleibt ihren Wurzeln jedoch treu. Ich würde sagen, dass sich die Band in einer Neufindungsphase befand, während den Arbeiten an diesem Album, die folgendes bewirkte: Eine immerkehrende Vielfältigkeit, bereits innerhalb eines Songs, sowie ein Gefühl, dass den Hörer "back to the Roots" treibt. Kataklysm passten nie wirklich in eine Schiene, was auch gut ist.
Meditations verkörpert die Grundelemente und Wurzeln der Kanadier, allerdings in einer aufgefrischten und vorher nie dagewesenen Form. Dieses Album, weil neu und alt zugleich, in Dualität verschiedener Essenzen in der Existenz als Außenseiter, wird alte und neue Fans begeistern! Daumen hoch! Rock on!
Tracklist:
01. Guillotine
02. Outsider
03. The Last Breath I'll Take Is Yours
04. Narcissist
05. Born To Kill And Destined To Die
06. In Limbic Resonance
07. And Then I Saw Blood
08. What Doesn't Break Doesn't Heal
09. Bend The Arc, Cut The Cord
10. Achilles' Heel
Besetzung:
Vocals – Maurizio Iacono
Guitar – Jean-François "JF" Dagenais
Bass – Stéphane Barbe
Drums – Oli Beaudoin