Band: King
Titel: Reclaim The Darkness
Label: Indie Recordings
VÖ: 26.08.2016
Genre: Melodic Black Metal/Melodic Death Metal
Bewertung: 4,5/5
Written by: Peter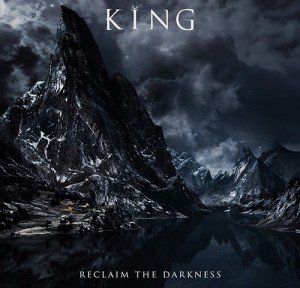 Es ist ja nun nicht gerade bescheiden, sich als Gruppe King zu nennen. Das weckt hohe Erwartungen, vor allem die, ob die Truppe mit ihrer Musik dann auch wirklich im Königreich der BangerInnen, vor allem in ihrer jeweiligen Genre-Schublade rullen können.
Die drei Burschen von King aus Melbourne, Australien, treten hierzu mit ihrem Album Reclaim The Darkness an. Und wenn man sich das Teil dann unter den Auspizien der genannten Frage anhört, wird man nicht zur Gänze enttäuscht, aber auch nicht dazu gezwungen gleich stundenlang neuen Genrekönigen zu huldigen. Die Jungs aus Down Under machen melodischen Extreme Metal, der der Ästhetik nach eher schwarz inspiriert ist, aber musikalisch oft als lupenreier Melodic Death durchgeht. Stilistisch ist das Ganze also weder neu noch extrem originell; aber wie sie das umsetzen, nötigt ordentlich Respekt ab.
Das Album ist eine erstklassige melodische Extreme-Metal-Scheibe geworden, die bei mir noch öfters im virtuellen Laufwerk rotieren wird. Fans der genannten Genres sollten also durchaus in Erwägung ziehen, die Australien-Boys zu supporten. Es wir mit guter Musik belohnt!
Tracklist:
01. Cold Winds
02. Reclaim The Darkness
03. All In Black
04. My Destination The Stars
05. Night Sky Abyss
06. Winter Sons
07. The Journey Begins
08. Black North
09. One World One King
Besetzung:
Tony Forde – Vocals
David Hill – Guitar
David Haley – Drums
King im Internet:
King Website