Band: Kvltist
Titel: Catechesis
Label: World Terror Committee
VÖ: 01.12.15
Genre: Black Metal
Bewertung: 3,5/5
Written by: Daniel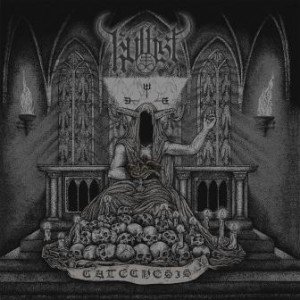 Düstere, aggressive Klänge entführen den Hörer in die Abgründe der Hölle. Roh, aber mit dem Gespür für Epik im Stile von Gorgororth, alten Immortal oder Taake bietet das Duo vor allem mit den längeren Stücken The Devil's Catechumen, Darkest Light From Gathering Shadows und Oblation hasserfüllte, atmsophärische Reisen zur dunklen Seite.
Bei Doxologia Eosphoros verkommt dieser Eindruck allerdings zum Gewöhnlichen, was daran liegen mag, dass KVLTIST Abwechslung nicht gerade groß schreiben.
Das Schema auf CATECHESIS scheint schnell durchschaut:
Der Boshaftigkeit, also den ausufernden, beeindruckend vielschichtigen Komposition folgt in der Regel eine gewaltige Eruption des Hasses in Form schnellerer Tracks.
Diese bilden mit Ausnahme des verstörenden Ite Ad Ignis vorwiegend "nur" oberen Durchschnitt (Devotion, Eucharisty of Death Divine), können also nicht mit den anderen, überwiegend großartigen Songs mithalten.
Als Gesamtwerk bietet CATECHESIS puren, authentischen Black Metal, dessen Atmosphäre trotz kleiner kompositorischen Schwächen jede Seele verdunkeln sollte.
Insgesamt ein sehr starkes Debüt, bei dem sich anchecken also lohnt!
Trackliste:
01. The Devil's Catechumen
02. Devotion
03. Darkest Light from Gathering Shadows
04. Eucharisty of Death Divine
05. Oblation
06. Doxologia Eosphoros
07. Ite ad Ignis
Besetzung:
Amon Xul – vocals
MZI – all instruments, vocals
Kvltist im Internet: