Band: Tarot
Titel: The Warriors Spell
Label: Heavy Chains Records
VÖ: 11.12.15
Genre: zeitloser Heavy Rock
Bewertung: 4,5/5
Written by: Daniel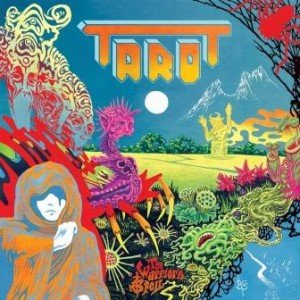 Australien, ick liebe dir!
TAROT, ein Trio welches mich fatal an The Wizar`d erinnert, erobert mein Herz. Und siehe da, Sänger The Hermit bestätigt nach kurzer recherche meinen Anfangsverdacht, als aktiver, mutmaßlicher Musiker an verschiedenen Anschlägen in Form von extrem guter Musik, beteiligt zu sein. Als Ol' Rusty Vintage Wizard treibt er bei den Occult Doomern sein unwesen und sorgt mit seiner Stimme für hypnotische Kopfhörersitzungen.
Doch bevor ich mich hier ganz und gar in Schwärmerein verliere, kommen wir zurück zum eigentlichen Anlass dieses Reviews, THE WARRIORS SPELL.
Kein neues Album, sondern eine Compilation, welche dieletztes Jahr erschienenen drei EPs The Watchers Dream, Dying Daze und Life And Death zusammenfast, mit The Warriors Spell und Streets Lamps Calling aber auch zwei neue Tracks bietet.
Die Band bietet, grob umschrieben, Seventies Rock der sich durch die ganze Dekade zieht. Ältere Hörer werden hier vor allem Uriah Heep und Deep Purple, in ruhigen Passagen auch Jethro Tull heraus hören.
Ob man dabei immer die Klasse der Bands erreicht, die als Mitbegründer der Rockmusik gelten, ist schon ob dieser Tatsache vollkommen irrelevant. Aus heutiger Sicht erreichen TAROT immer wieder die Sphären längerer Mausoleum Gate Kompositionen, hypnotisieren durch den Gesang und durch den interessanten Aspekt, dass die Orgel bei Bedarf nicht den Mut scheut, wie unter anderem bei Mystic Cavern und Take A Look Around, auch die Rolle der zweiten Gitarre einzunehmen.
In etwa so, wie es Folk Rock Bands mit dem Dudelsack oder der Geige halten.
Das klingt manchmal, als würde Jon Lord bei Yes spielen (Leaving This Place!), die Gitarre ist in deren Zusammenspiel indes öfter vom Geiste Thin Lizzys erfüllt. Eyes In The Sky, Sound The Horn und The Warriors Spell klingen daher mächtig nach ganz alten Iron Maiden.
Das Rad wird mit THE WARRIORS SPELL also nicht neu erfunden, aber es rollt und lässt sogar mich vor Begeisterung durchdrehen!
Trackliste:
01. The Watcher's Dream
02. Twilight Fortress
03. The Wasp
04. Eyes in the Sky
05. The Warrior's Spell
06. Street Lamps Calling
07. Leaving This Place
08. Mystic Cavern
09. Dying Daze
10. Life and Death
11. Sound the Horn
12. Vagrant Hunter
Besetzung:
The Hermit – vocals, guitars, organ, keyboards
The Hierophant – bass
The Magician – drums
Tarot im Internet: