Band: Lordi
Titel: To Beast Or Not To Beast
Label: AFM Records
VÖ: 2013
Genre: Hard Rock, Heavy Metal, Sleaze Rock
Bewertung: 4/5
Written by: Thorsten Jünemann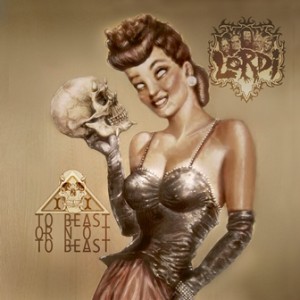 LORDI are back, ohne wirklich weg gewesen zu sein.
Es war mal kurzzeitig etwas ruhig geworden, weil die Band auch mit Trauerfällen in den Reihen zu tun hatte und nicht nur der Drummer ersetzt werden musste.
Doch nun ist es soweit und das monstermäßige Hardrock Unternehmen kann weiter laufen.
Veränderungen gibt es musikalischerseits keine – warum auch, denn der an die 80er erinnernde Hardrock/Heavyrock funktioniert bestens und lässt alle Möglichkeiten offen, hymnenhafte Melodien ihren freien Lauf zu lassen. So wie es die gruseligen Vorbilder "Schwarzie Gesetzlos" (Blackie Lawless-WASP) und Alice Cooper bereits vormachten.
Nein, LORDI sind keine Coverband und auch keine "ESC-Hampelmänner & Eintagsfliegen".
Natürlich leben LORDI auch von ihren Verkleidungen, aber das Hauptaugenmerk mal auf die Musik gelegt, wird man feststellen, dass der beschriebene Rock äußerst gekonnt und spielfreudig vorgetragen wird, und sich so einige Ohrwürmer eingeschlichen haben.
Leider haben es LORDI auch diesmal nicht geschafft, ein ganzes Album voller 1+ Hymnen vorzulegen, denn wie in den Jahren zuvor, werden dem Zuhörer auch einige Füller untergejubelt.
Die besseren Songs (vom songwriterischen Aspekt her) überwiegen auf dem Album, doch die paar Füller langweilen dafür umso mehr.
Doch am Ende des Tages bleibt nur noch zu sagen:
What A Great Happy Monster-Music-Show!
Selbst beim der Raab´schen "Wok-WM" haben die Finnen eine gute Figur (?) gemacht, aber rein musikalisch kann ich für "To Beast Or Not To Beast" nicht mehr als 4/5 Punkte lockermachen.
Last But Not Least freue ich mich aber sehr auf die Live Dates, denn live sind LORDI eine Klasse für sich, nicht nur für´s Auge…
Achja, das Albumcover ist richtig gut gelungen, gefällt mir sehr gut!
Tracklist:
01. We're Not Bad For The Kids [We're Worse]
02. I Luv Ugly
03. The Riff
04. Something Wicked This Way Comes
05. I'm The Best
06. Horrifiction
07. Happy New Fear
08. Schizo Doll
09. Candy For The Cannibal
10. Sincerely With Love
11. SCG6: Otus Butcher Clinic
Besetzung:
Mr. Lordi (voc)
Amen (guit)
Ox (bass)
Hella (keys)
Mana (drums)
Internet:
Lordi Website
Lordi @ MySpace