Band: Magica
Titel: Center Of The Great Unknown
Label: AFM Records
VÖ: 2012
Genre: Symphonic Metal
Bewertung: 2/5
Written by: Thorsten Jünemann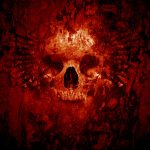 Seit knapp 10 Jahren geistern MAGICA aus Rumänien durch die Metalwelt und versuchen nun mit ihrem sechsten Studioalbum bei den Freunden des "Female-Fronted-Metal" zu punkten. Aber leider viel zu früh gefreut, denn bis auf das Cover des Albums, reißt mich hier überhaupt nix vom Hocker.
Der Sound wurde dank Sebastian Leevemann (ORDEN OGAN) stark verbessert, dümpelt aber trotzdem eher knapp durchschnittlich durch meine heiligen Hallen. Man verzichtete auf den Keyboarder und holte sich ´nen 2.Gitarristen ins Boot, der mitunter auch für so einige schöne Riffs sorgt. Aber ein paar schöne Riffs machen weder einen guten Song, noch ein gutes Album.
Und so plätschert das Album völlig unspektakulär an einem vorbei, ohne auch nur einen einzigen Akzent zu setzen, oder sich auch nur mit einer einzigen Note im Ohr fest zu beißen.
Wer die Alben der Band davor mochte, wird sich hier und heute fragen:
WAS IST DAS?
WAS SOLL DAS?
Der Song "King Of The World" bietet einigermaßen das, was man erwartet, bzw. auch hören möchte. Potenzielle Ansätze sind vorhanden, doch leider wirkt alles ein bisserl unausgegoren; Vom Songwriting bis zum Sound!
Sorry, aber mehr als 2 / 5 Punkte sind echt nicht drin.
Es gibt so viele Bands mit weiblichen Frontern, die bedeutend besser und abwechslungsreicher klingen; auf die sollte man eher zurückgreifen, als hier zugreifen!
Tracklist:
01. Center Of The Great Unknown
02. Masterspell
03. King Of The World
04. Open
05. The Earth Is Young?
06. Step Into The Night
07. No Horizon
08. One Angry Gaia
09. Mark Of Cain
10. Under The Auroras
11. Daca 2012 (Bonus Track)
Besetzung:
Ana Mladinovici (voc)
Bogdan "Bat" Costea (guit)
Emilian "Emy" Burcea (guit)
"6fingers" (keys)
Valentin "ÎngerAlb" Zechiu (bass)
Cristi Bârla (drums)
Internet:
Magica Website
Magica @ MySpace