Marilyn Manson – Heaven Upside Down
Band: Heaven Upside Down
Titel: Marilyn Manson
Label: Loma Vista Recordings
VÖ: 06.10.2017
Genre: Rock
Bewertung: 3,5/5
Written by: Rubi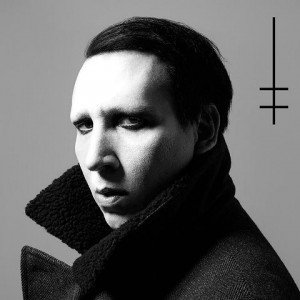 Endlich! Nach mehrmaligem Verschieben des Releasedatums, ist die neue Platte des selbsternannten ,,Antichrist-Superstars'' Marilyn Manson am 06.10. erschienen. Zwei Jahre ist das letzte Album "The Pale Emperor" her und einiges hat sich in der Weltgeschichte getan. Genug Stoff müsste es also geben über das Manson sich auslassen könnte. Und doch könnte das Album gleichgültiger nicht sein. Etwas gelangweilt kämpft sich ein immer noch provozierfreudiger Sänger durch die Songs und erschießt auf seinem Weg ein paar Nonnen ("We know where you fucking live"). Doch kann der "Schock Rocker" noch schocken? Der "Schock-Faktor" fehlte ja bereits beim letzten Album, doch jetzt scheint das ganze noch mühseliger zu sein. Denn Mansons Versuch sein Image vom "provokativen Shock Rocker" aufrecht zu erhalten, ist in meinen Augen gescheitert. Nicht nur, dass die klassische alles-infrage-stellende Atmosphäre fehlt, auch die Texte wirken für einen Musiker mit 25-jähriger Erfahrung nicht gerade anspruchsvoll oder durchdacht. Zeilen wie,
I write songs to fight and to fuck to
If you wanna fight, then I'll fight you
If you wanna fuck, I will fuck you
Make up your mind or I'll make it up for you
("JE$U$ CRI$I$")
zeichnen ein Bild eines verzweifelten Mannes, der sich selbst gerecht werden will. Aber es gibt natürlich auch den ein oder anderen gelungenen Song. "Revelation #12" und "Blood Honey" habe ich mehrmals genossen. Der Titeltrack "Heaven Upside Down" konnte ebenfalls punkten. Die Platte wird bestimmt nicht mein Favorit aus Mansons Discography, trotzdem sollte jeder Fan auf jeden Fall reinhören.
Tracklist:
01. Revelation #12
02. Tattooed in Reverse
03. We Know Where You Fucking Live
04. Say10
05. Kill4Me
06. Saturnalia
07. Je$u$ Cri$i$
08. Blood Honey
09. Heaven Upside Down
10. Threats of Romance
Besetzung:
Marilyn Manson – Gesang
Paul Wiley – Gitarre
Tyler Bates – Gitarre
Twiggy Ramirez – E-Bass
Gil Sharone – Schlagzeug
Internet:
Marilyn Manson Website