Band: Neverworld
Titel: Visisons Of Another World
Label: Dream Demon Records
VÖ: 2014
Genre: Melodic Heavy/Power Metal
Bewertung: 3/5
Written by: Lex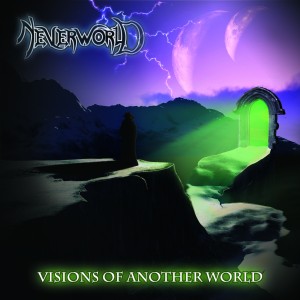 Nach einer EP und drei Jahren harter Arbeit, während der laut Promo-Information Hörer und Presse für mehr NEVERWORLD-Stoff gebetet haben, erscheint das Album-Debut der Band. Nun, ich gehöre jetzt mit Sicherheit nicht zu den Leuten, die dafür Knie-Rutschen und Handflächen-Kuscheln betrieben haben, lasse mich aber gern davon überzeugen, dies besser getan zu haben.
Einmal Durchhören später darf ich sagen, dass zumindest ich auch die nächsten Jahre nicht damit verbringen werde, mir einen Altar zum Herbeibeschwören einer neuen NEVERWORLD-Scheibe einzurichten. Die Männer sind alles andere als schlecht, liefern immer wieder ein paar interessante Stellen und bedienen spiel- und genretechnisch alles, was sich der Melodic Metal Fan wünscht. Aber noch sind NEVERWORLD Sklaven des Genres und schaffen es nicht, ihren Stücken die gewisse Magie einzuhauchen.
Alles passt auf "Visions Of Another World", einschließlich gelegentlich aufblitzender AHA-Momente. Aber es fehlt das gewisse Etwas, um es zumindest beim einen oder anderen Track wirklich KLICK machen zu lassen. Ihr Hand- und Kunstwerk beherrschen NEVERWORLD schon, aber es fehlt noch die Vision zum Meistersiegel.
Tracklist:
01. Tempus
02. Visions Of Another World
03. They Live
04. Blood And Romance
05. Ghosts
06. The Wheel Of Misfortune
07. Eminent Reprisal
08. Salt Water Bandits
09. This Fire
Besetzung:
Mike Vaughan (Drums)
Ben Colton (Guitar/Bass/Keyboards/Vocals)
Gary Payne (Bass)
Jack Foster (Guitar)
Daniel Potter (Keyboards)
Christina Gajny (Guest Backing Vocals)
Internet: