Band: NiteRain
Titel: Vendetta
Label: Indie Distribution
VÖ: 02. Dezember 2016
Genre: Hard Rock
Bewertung: 4/5
Written by: Rubi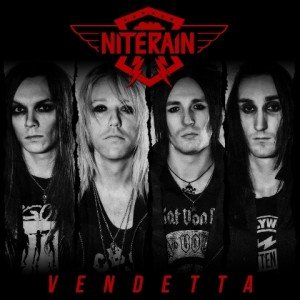 "NiteRain kicks ass!" unter diesem Motto mischen die Jungs von NiteRain seit 2012, u.a. mit Bands wie L.A.Guns und Steelpanther, die Mengen auf. Die norwegischen Rocker haben 2013 ihr erstes Album "Crossfire" veröffentlicht und seitdem geht es bergauf.
Obwohl man den Songs anerkennt, dass sie von Größen wie Mötley Crüe, Van Halen und Guns 'n Roses inspiriert worden sind, beweisen die Jungs, dass sie ihren eigenen Stil haben. Auch, dass sie offensichtlich eine Vorliebe für die 80er Jahre haben ist definitiv zu erkennen.
Aufgrund der unterschiedlichen musikalischen Vergangenheit der Mitglieder, ist NiteRain keine typische Rock 'n Roll Band. Einflüsse aus allen möglichen Genres macht ihre Musik einzigartig. Um einiges Erwachsener, sicherer und um 1 Jahr verspätet , präsentieren sie uns jetzt ihr 2. Album "Vendetta"."It's a middlefinger to everyone who doesn't like us. This way we show them that we've still come far.", antwortet Schlagzeugspieler Morten Garberg auf die Frage wieso ausgerechnet "Vendetta" als Titel passend war. "High Velocity kickass rock 'n roll" bezeichnen sie ihre Musik und werden dem definitiv auch gerecht. Die unterschiedliche Thematisierung der Songs, bietet etwas für jeden. Sogar eine Ballade haben sie noch draufgepackt. "Don't fade away", dass NiteRain nicht so schnell von der Bildfläche verschwinden werden, bezweifle ich keineswegs. Die 1. Single der Platte "Rock 'n Roll" ist ein echter Ohrwurm, auch Songs wie "Electric" sind Stadion-reif. "Rock 'n Roll", "Something ain't right" und "Come out", haben mich sofort beeindruckt.
"Rock 'n Roll in my soul, rock 'n roll, lose control!", das haben sie sich wirklich zu Herzen genommen und es verdient gehört zu werden.
Tracklist:
01. Lost and Wasted
02. Come out
03. The Threat
04. Rock 'n Roll
05. Romeo
06. One more time
07. Something ain't right
08. Don't fade away
09. #1 Bad Boy
10. Electric
11. Vendetta
Besetzung:
Sebastian Tvedtnæs – Vocals
Adrian Persen – Guitars
Frank Karlsen – Bass
Morten Garberg – Drums
Internet:
NiteRain Website