Band: Pest
Titel: The Crowning Horror 
Label: Agonia Records
VÖ: 2013
Genre: Black Metal
Bewertung: 4/5
Written by: Heimo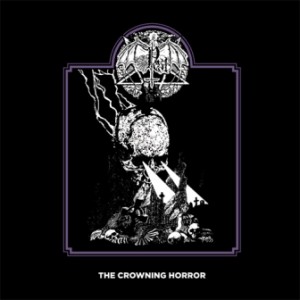 PEST – das schwedische Duo, welches vor 5 Jahren mit einen neuen Album auf sich aufmerksam gemacht hat – bringt nun mit THE CROWNING HORROR einen neuen Silberling, oder soll ich sagen "Schwarzerling" auf dem Markt.
Das Duo ist so Old-School, dass man gleich zweimal schaut, ob eh gerade das richtige Material durch den Player läuft. Bathory, Celtic Frost trifft auf King Diamond, Maiden oder auch AC/DC, oder leichter gesagt: Black meets (British) Heavy.
Ausgefeiltes Gitarrenriffing aus der Heavy-Schule, gepaart mit einem bitterbösen Bass und harten Drumming – so könnte man PEST's "The Crowning Horror" am besten beschreiben.
Dazu kommt noch eine Produktion, die nach frühen 80ern klingt, und fertig ist eine recht akzeptable Band, die sich dem Blackened Heavy Metal verschreibt.
Nur ist das ganze nicht so gut wie z.B. bei Nifelheim oder auch Deströyer 666, aber für Underground-Verhältnisse durchaus mehr als gut!
Tracklist:
01. The Funeral Hours
02. A Face Obscured By Death
03. Volcanic Eyes
04. Devil's Mark
05. Holocaust
06. The Abomination Of The God
07. Thirteen Chimes
08. Demon
09. The Crowning Horror
10. Eternal Curse
Besetzung:
Necro (drums, voc & guit)
Equimanthorn (bass & guit)
Internet:
Pest Website