Band: Pit Of Carnage
Titel: The Rise Of The Fallen King
Label: CDN Records
VÖ: 03. August 2016
Genre: Brutal Death Metal
Bewertung: 5/5
Written by: Lazer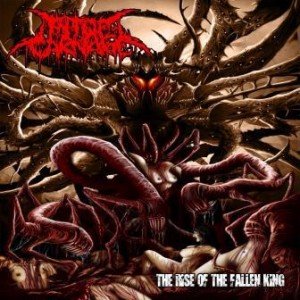 2013 entstand nach einem Split der Band Innate Affliction die neue Truppe Pit Of Carnage. Nach dem Debütalbum aus 2014 verließ der Basser die Band und so musste ein neuer Stringmaster her. Der Allrounder Benjamin "Goredrummer" (er spielt bis auf den Bass alles selber ein) fand auch mit Peter Juelsgaard einen adäquaten Ersatz.
"The Rise Of The Fallen King" nennt sich das neue Stück der beiden Dänen und macht so einiges her. Das Duo ist ziemlich brutal unterwegs und lässt keinen Stein auf dem Andren. Brutal Death Metal wird hier sehr groß geschrieben. Die Riffs sind brutal und wühlen so dermaßen im Dreck. Die Drums sind abartig treibend und brutal, und der Bass zermalmt alles, was der Goredrummer übrig lässt. Erstaunlich ist, welche Atmosphäre die beiden zustande bringen. Hiervon könnten sich so manche Vierer- oder gar Fünfergespann eine ganz ganz dicke Scheibe abschneiden.
Die Scheibe besticht durch ihre Brutalität und Morbidität. Von der ersten Sekunde an ist man gefesselt – dieses Teil lässt einen nicht mehr los. Es sind ausreichend Headbangingpassagen vorhanden, somit steht dem Aufbau der Nackenmuskulatur nichts mehr im Wege. Die beiden Dänen experimentieren auch ein wenig, was dem Album sehr zu Gute kommt. Auf jeden Fall haben die Tracks der Jungs unsagbar viel Power und machen unheimlich viel Spaß.
Mein Fazit: "The Rise Of The Fallen King" ist ein total geniales Album. Pit Of Carnage katapultieren sich damit bestimmt in die Herzen und Langzeitgehirne diverser Brutal-Freaks. Mich jedenfalls können sie ab jetzt als neuen, sehr begeisterten Fan zählen. Die Scheibe knallt wie Sau und zerdrischt jegliche Vorstellungskraft von Brutalität und Durchschlagskraft. Absolut muskulöses Album. Für Brutal Death Fans ist diese Platte ein unbedingtes Muss.
Tracklist:
01. Feed The Machine
02. The Rise Of The Fallen King
03. Obbsession Of A God
04. Pile Of Corpses
05. Bring It On
06. Leviathan I
07. Leviathan II
08. Reflection Of Desire
09. Voids Of The Abyss
10. Walking The Shadows
Besetzung:
Peter Juelsgaard – Bass
Benjamin "Goredrummer" – Vocals, Guitars, Drums
Internet: