Band: Planet Of Zeus
Titel: Loyal To The Pack
Label: Ihaveadrum Records/VEA Music
VÖ: 13. Mai 2016
Genre: Southern/Stoner Metal
Bewertung: 4/5
Written by: Lazer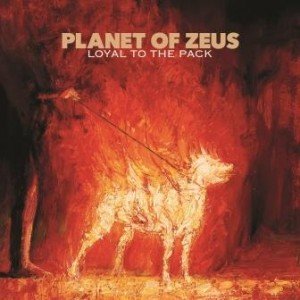 Mit ihrem vierten Full-Length Album "Loyal To The Pack" wollen Planet Of Zeus einen weiteren Mosaikstein in ihrer Bandgeschichte verlegen. Die Stoner Metaler aus dem sonnigen Athen bestehen nun seit der Jahrtausendwende, und releasen ihren neuesten Output genau so wie den Vorgänger "Vigilante" (2014) über Ihaveadrum Records.
"Loyal To The Pack" ist ein klassisches Stoner Metal Album geworden, dem man absolut nicht anmerkt, dass es nicht aus Amerika kommt. Die Truppe rund um Sänger und Gitarristen Babis Papanikolaou schlägt sehr amerikanische Töne an. Der Rundling wartet mit elf Tracks auf, die unterschiedlicher fast schon nicht sein könnten. Unterschiedlich bezogen auf facettenreich.
Planet Of Zeus schöpfen auf "Loyal To The Pack" anscheinend ihre gesamte Bandbreite aus, in dem sie nicht nur fetzigere Songs mit Drive draufpacken, sie können sich auch durch einige Songs gut durchgrooven, oder aber auch auf die sanfte Tour leicht melancholisch sein. Dennoch verlieren sie ihr Ziel und ihren Stil niemals aus den Augen und bleiben ihrem Southern Metal stets treu.
"Loyal To The Pack" ist auf jeden Fall etwas schwerere Kost. Die Tracks verfügen über ausreichend schwermütige Riffs und schleppende Drumms. Die Griechen schaffen auf ihrem Werk eine Atmosphäre, die sowohl betrübend und drückend ist, als auch aggressiv und teilweise beissend. Nichts desto Trotz, schlagen die Mannen nie über die Stränge oder schießen über das Ziel hinaus. "Loyal To The Pack" kommt sehr authentisch rüber und wirkt niemals unnötig aufgeblasen.
Mein Fazit: Mit diesem Output machen die Athener Stoner Metaler von Planet Of Zeus sehr vieles sehr richtig. Ab und an blitzen leicht eingängige Melodien hervor, oder kommen stampfende Rhythmen zum Vorschein. Dennoch bleibt das Gesamte dem Motto Southern/Stoner Metal treu und wirkt schön schwergängig und schwermütig. Den Punkteabzug gibt es dafür, dass hier mit Innovationen eher gegeizt wird. Trotzdem wurde "Loyal To The Pack" ein ziemlich heißes Eisen.
Tracklist:
01. Loyal To The Pack
02. Devil Calls My Name
03. Them Nights
04. Little Deceiver
05. Your Lobe Makes Me Wanna Hurt My Self
06. Retreat
07. Sea Bastards
08. White Shroud
09. Scum Alive
10. Indian Red
11. Athens
Besetzung:
Babis Papanikolaou – Vocals, Guitars
Stelios Provis – Guitars
Giannis Vrazos – Bass
Serapheim Giannakopoulos – Drums
Internet:
Planet Of Zeus Website