Band: R.I.P.
Titel: In The Wind
Label: Totem Cat Records
VÖ: 03. Februar 2017
Genre: Doom/Heavy Metal
Bewertung: 3,5/5
Written by: Daniel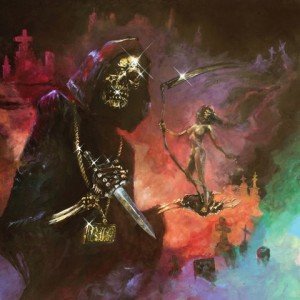 Das aus Portland, Oregon stammende Quartett dreht die Verzerrer auf Anschlag, stimmt die Instrumente bis in den Keller und hat mit Fuzz jemanden am Mikro, der Ozzy Osbourne verdammt nahe kommt.
Das Debüt IN THE WIND steckt somit die Zielgruppe ab. Verkiffter, düsterer Metal aus der Urknallphase des metallischen Universums in den gut 28 Minuten geboten.
Dabei kann es, wie beim Intro The Scythe, dem groovenden Tremble oder dem pechschwarzen Bereaved durchaus einmal flotter zur Sache gehen.
Dieser Umstand lässt die, mit mächtig dicken Eier daherkommenden, dazwischen befindlichen Schlepphoden Black Leather und das Glanzlicht, das dynamische Smoke & Lightning umso stärker erscheinen. An starken Riffs mangelt es auf IN THE WIND also nicht.
Ebenfalls gut gemacht ist der Titeltrack, der sich über das Album verteilt und nicht nur mit der Musik unterhält, sondern auch ( zumindest für Okkultismusinteressierte) mit gelungenen Zahlenspielereien (drei Teile, je drei Songs Abstand, gut ein Drittel der Spielzeit usw.) als Gimmick.
Macht am Ende kein Meisterwerk, aber eine ausdrückliche Empfehlung für alle, die zwischen The Wizar`d und Black Sabbath noch Platz im Plattenschrank haben.
Trackliste:
01. The Scythe
02. In the Wind Part 1
03. Tremble
04. Black Leather
05. Smoke and Lightning
06. In the Wind Part 2
07. The Tombstone
08. Bereaved
09. Brave in the Grave
10. In the Wind Part 3
Besetzung:
Fuzz – Gesang
Angel Martinez – Gitarre
Jon Mullett – Bass
Willie D – Schlagzeug
R.I.P. im Internet: