Band: RAVEN´S GATE
Titel: BLACKSTAR MACHINERY
Label: Art Gates Records
VÖ: 25.11.2016
Genre: Power Metal
Bewertung: 3,5/5
Written by: Maze P.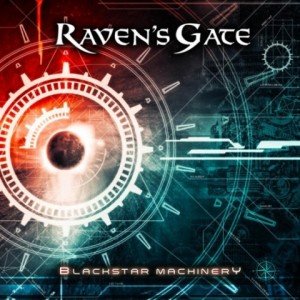 Die 2009 gegründete Band (Nicht mit der gleichnamigen Buchreihe verwechseln!) veröffentlichte dieser Tage ihr 2. Full-Length Album und Ihr drittes Gesamtwerk nach der Defying Gravity" – EP (2011) und dem "Defying Gravity" – Full Length Debut Album (2013). Die aus Valencia, Spanien, stammende Formation spricht von ihrem bisher reifsten Album und meint dazu: "It represents an unfolding at every level, both musical and visual, maximizing the hallmarks of the band. This supposes an evolution of the band, which is reflected and represented in the new show of Raven's Gate". Na dann mal reingehört, denn wer nichts weiß, der muss ja bekanntlich alles glauben. Und ich will mir gerne selbst ein Bild von der mir vorliegenden CD "Blackstar Machinery" machen.
Rein musikalisch gesehen liefern die Spanier eine beachtliche Leistung auf ihren Instrumenten ab. Diese werden ordentlich beherrscht. Vor allem Frontmann Arturo "Megamuerte" macht seine Sache ausgezeichnet und liefert ein ordentliches Brett ab. Gitarre und Bass machen ihre Arbeit. Der Drummer auch, allerdings ist es hier so, dass die Drums einen viel zu seichten Sound verpasst bekommen haben. Fett klingt anders. Manchmal kann der geneigte Hörer nur erahnen, wass denn hier geklopft wird. Schade drum. Hier verträgt das gesamte Drumset einfach viel mehr "Wumms", um es klipp und klar zu sagen.
Das Songwrting an sich ist wirklich sehr hoch anzusetzen, denn die Mischung aus Symphonic- und Power Metal (sehr gut komponiertes Orchester) mit Industrial (naja, der Begriff Industrial stimmt nicht ganz, besser gesagt: Dance-Riffs und Beats, die übrigens hervorragend klingen!) wurde sehr, sehr gut umgesetzt. Macht ordentlich Partylaune und Lust auf mehr, wenn da nicht so arg mit der Produktion im Trüben gefischt worden wäre (DIE DRUMS!!)
Die Songs an sich, allesamt, auch das Intro, machen das was sie sollen: Gute Laune! Ein seichtes Album, dass auf jeder Party gut ankommen sollte. Tiefe ist hier nicht. Aber was soll´s, muss ja nicht immer alles in Dunkelheit und Gejammer zerfließen.
Das Album wäre eine lockere 4, wenn da nicht…, na ja ihr wisst schon… Daumen hoch! Rock on
Tracklist:
01. Enter The Blackstar
02.The New Wave
03. Kill The Enders
04. Powerlife
05. Whirlwind
06. Nilybrium Fields
07. The Hollow
08. In Love With A Shadow
09. Dance Of The Scarecrow
10. Niagara
Besetzung:
Arturo "Megamuerte" – Vox
Dani Juarez – Gitarre
Toni "Vanjoker" – Teclados.
Aitor Francés – Bass.
Rodrigo Puché – Drums
Internet: