Band: RAW
Titel: Battalion Of Demons
Label: MDD Records
VÖ: 15. Jänner 2016
Genre: Thrash Metal/Death Metal
Bewertung: 3/5
Written by: Peter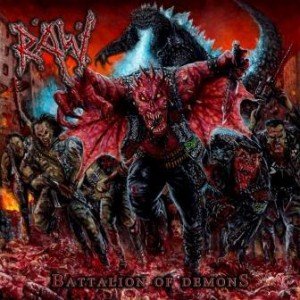 Die Mannheimer Thrasher RAW legen im neuen Jahr früh ihren neuesten Output Battalion Of Demons vor. Eigentlich gar nicht schlecht, das Teil, aber mal der Reihe nach. Die Teutonen-Thrasher machen auch auf ihrem dritten Album keine Gefangenen – sie selbst geben einen Promozettel mit auf die Reise zum Redaktionspostkasten, auf welchem sie ihre Mucke als "Blast Beat Thrash" bezeichnen. Und das ist dann gar nicht so falsch. Geboten wird Hyperspeed-Thrash der eine intensive Mittachtziger-Duftnote, Kompassrichtung Reign In Blood, hinterlässt. Zum Blast Beat Thrash wird der Hassbatzen an vielen Stellen, an denen man die sonische Grenze zum Extreme Metal leichtfüßig hinter sich lässt. Will heißen, die Shouts sind fast konsequent deathig derb und auch die Instrumentierung ballert gradwegs nach vorne. Dennoch ist es in der Grundstruktur eben Thrash Metal der aggressen Sorte, wie man ihn im Hause Exodus oder Slayer vor etwa dreißig Jahren erfand. Das hat ein Gutes und ein Schlechtes: Das Gute ist, dass die Platte Laune macht und ordentlich die eben frisierten Haare nach hinten föhnt. Das Schlechte ist die mangelnde Kreativität und Originalität. Das Ganze ist ein ordentliches Album von deathigem Riffgeballer geworden, aber eigenständig ist das nun nicht. Und da es eigentlich zwölf Songs lang "bloß" munter in die Fresse gibt, ist es eine gewisse Monotonie nicht wegzureden.
Tracklist:
01. Battalion Of Demons
02. Death Bacteria
03. Career Decisions
04. Shell Shock
05. Last Breath
06. Full Speed Ahead
07. Dark Clouds
08. Stop Asking
09. Start A Cult
10. Life Sucks
11. Link Riders
12. Rawmetal Thrashsquad
Besetzung:
Philipp Lehmann – Vocals
Mauro Bruni – Guitar
Dirk Stephan – Guitar
Niklas Beisert – Bass
Alexander Wenz – Drums
RAW im Internet:
Raw Website
Raw @ MySpace
Raw @ Reverbnation