Band: Royal Quest
Titel: The Tale Of Man
Label: Selfreleased
VÖ: 22.05.15
Genre: Symphonic Progressive Power Metal
Bewertung: 0,5/5
Written by: Thorsten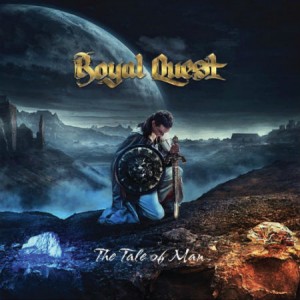 Hmmmmm…
Wenn jemand länger als 15 Jahre allein an einer Metaloper arbeitet, bastelt, feilt, schraubt,…und dabei kommt nur überladener, programmierter und schlecht klingender Symphonic Progressive Power Metal Opern Mischmasch raus, den selbst Schülerbands hätten besser klingen lassen können…sagt man dann dem griechischen Musiker Yannis Androulakakis das das einfach nur riesengroßer Mist ist oder versucht man doch aufbauende Kritik anzubringen, die beim Songwriting anfängt, über die musikalische Ausführung bis zur Albumproduktion/Sound reicht?
Ich gebe ja zu, das Ideen vorhanden sind die auch zeigen, was der gute Mann vorhat, bzw. vorhatte..
Diese Metaloper funktioniert von vorn bis hinten nicht, macht eher den Eindruck einer mitgeschnittenen, mittelmäßigen Rollenspielkommunikation, weil weder die Gesänge authentisch rüberkommen, die Keys wie Casio-Handgeräte klingen und der Drumcomputer…ach, lassen wir das!
Basieren tut der vertonte Gehörgangsmörder auf Michael Moorcocks "Eternal Champion", was die Sache jetzt aber nicht wirklich besser macht.
Ein letzter Vergleich:
Wem Timo Tolkkis letzte Metalopern schon nicht gefallen haben, der sollte um "The Tale Of Man" einen großen Bogen machen. Und damit habe ich mich echt freundlich vorsichtig ausgedrückt über die letzten 67 Minuten pure Zeitverschwendung, die tatsächlich auf CD´s gepresst wurde…
Einen halben freundschaftlichen Punkt, weil einige gute Grundideen zu erkennen sind…
Tracklist:
01. Intro 02:10
02. Rising Empire 06:56
03. Days of War (Intro) 01:33
04. Days of War 09:31
05. The Reign of Law 02:49
06. In the Name of Man 06:15
07. Dark Ages 06:19
08. Dark Lord's Words 05:42
09. The Cave of the Dead 05:43
10. Moonstone 07:01
11. The Realm of Chaos, Part I: The Encounter 02:42
12. The Realm of Chaos, Part II: The Prayer 02:11
13. The Realm of Chaos, Part III: Umbralith 01:17
14. The Last Scenes 07:23
Besetzung:
Yannis Androulakakis (guit, programming & voc)
Internet: