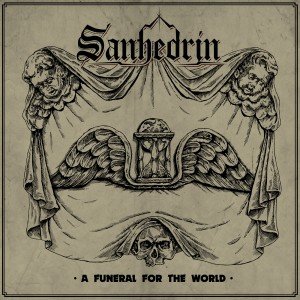 Band: Sanhedrin
Titel: A Funeral For The World
Label: Cruz Del Sur
VÖ: 27.04.2018
Genre: Heavy Metal
Bewertung: 4.5/5
Written by: Lex

Cruz Del Sur haben wohlgetan, diesem recht frischen Trio einen Plattendeal anzubieten und das zunächst in Eigenregie veröffentlichte "A Funeral For The World" unter dem eigenen Banner herauszubringen.
Denn neben einer jetzt schon starken eigenen Identität, die sich Sanhedrin mit ihrem (gelegentlich in Hardrock und Stonerrock-Gefilde wildernden) US Metal geschaffen haben, brilliert das Newcomer-Trio dank dem Opener "Riding On The Dawn" bereits jetzt schon mit einem definitiven Hit, dem man sich einmal gehört kaum mehr entziehen kann. Erica Stoltz (auch am Bass tätig) setzt dem ganzen mit einer extrem prägenden Stimme, die auf ganz natürliche Weise "irgendwie Metal" klingt, und mit niemandem verwechselt werden kann, die Krone auf.
Sollte jeder dieses Jahr zumindest einmal angehört haben.
Tracklist:
01. Riding On The Dawn
02. A Funeral For The World
03. Demoness
04. Collateral Damage
05. Faith Healers
06. No Religion
07. Massive Deceiver
08. Die Trying
Besetzung:
Jeremy Sosville (Guitar)
Erica Stoltz (Bass, Vocals)
Nathan Honor (Drums)
Internet:
Sanhedrin @ Facebook 
Sanhedrin @ Bandcamp