Band: Shadowkiller
Titel: Until The War Is Won
Label: Pure Steel Records
Genre: US Progressive/ Power Metal
Bewertung: 4/5
Written by: Daniel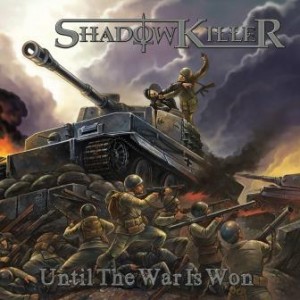 Joe Liszt und Gary Neff, die beide seit geraumer Zeit bei Hellhound verweilen, legen mit ihrer zweiten Band das zweite Album vor.
Und nein, trotz Albumtitel und Textkonzept (Joe Liszts nahm als Vorlage alte Kriegsgeschichten von seinem verstorbenen Vater) gibt es keine Kampfansage an Sabaton.
Die wären in einer Schlacht gegen SHADOWKILLER ohnehin chancenlos, zumindest wenn man US Metal Fan ist.
Vor allem mit den straighteren Tracks ( A Prince For Freedom, Survival) , die ich mal irgendwo zwischen Vicious Rumors, Metal Church und Iced Earth verorten würde, macht man aus seiner Herkunft keinen Hehl.
Aber neben diesen ist meine Begeisterung vor allem den progressiveren Stücken wie dem Opener Flames Of War, Staring Into Oblivion oder auch The Blood Of Many geschuldet.
Wer auf progressiven US Metal – Symphony X, Archetype und Redemption seien hier erwähnt – steht, der wird begeistert sein.
Auch Amored Saint kommen als Einfluss öfter durch, was We Stand Unbroken und Generation Steel besonders deutlich machen!
Hinzu kommt die wunderbare Stimme von Liszt, die der Band auf jeden Fall Charakter gibt. Genrefans sollten unbedingt anchecken.
Trackliste:
01. Flames Of War
02. Generation Strong
03. Legacy
04. A Price For Freedom
05. Staring Into Oblivion
06. Survival
07. The Blood Of Many
08. Until The War Is Won
09. We Stand Unbroken
Besetzung:
Joe Liszt – vocals, guitar
Marc Petac – lead guitar
Dan Lynch – bass
Gary Neff – drums
Shadowkiller im Internet:
Homepage