Band: Simulacrum
Titel: Sky Divided
Label: Inverse Records
VÖ: 28.08. 2015
Genre: Progressive Metal
Bewertung: 4/5
Written by: Daniel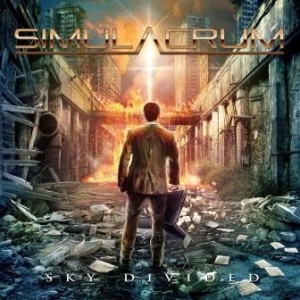 Die Finnen bieten auf Album Nummer zwo, einem SciFi – Konzeptalbum, eine herrlich frische Brise.
Und das, obwohl man das Rad nicht neu erfindet. Muss man auch nicht, solange die Hörerschaft auch nach etlichen Durchläufen immer noch interessante Details entdecken kann.
Behind The Belt Of Orion klingt zum Beispiel voll nach Symphony X, glänzt aber durch die von Tony Kaye inspirierten Keys.
Auch bei Broken sind es Yes, aber auch Kamelot, die als Inspirationsquelle herhalten müssen. Besonders gelungen ist hier die Einbindung eines Saxophones.
Danach gibt es hammermäßigen Neo Prog mit Embrance The Ainimal Within, der mich wehleidig auf die Anfangstage von Dream Theater zurückblicken lässt.
Das symphonische Deep In The Trenches ist dagegen zwar etwas zu cheesy, die zwischen modernem Progressive Groove und 90er Prog Metal wandelnden The Abomination und Enter Hyborian sorgen aber mit anspruchvollen, ausgiebig dargebotenen Instrumentalpassagen wieder für Qualitätssicherung.
Der Longtrack A New Beginning ist mit seinen wechselnden Stimmungen und den perfekt gesetzten Breaks das abschließende Highlight eines sehr starken Albums

Sky Divided ist für Progressive Metaller ein wahrer Ohrenschmaus. Das einzige, kleine Manko ist der Gesang von Niclas Broman. Dieser glänzt leider nicht in allen Tonlagen so gut wie seine Mitstreiter, macht seine Sache aber insgesamt gut.
Trackliste:
01. Timelapse
02. Behind The Belt Of Orion
03. Broken
04. Embrace The Animal Within
05. Deep In The Trenches
06. The Abomination
07. Sky Divided
08. Enter Hyperion
09. A New Beginning
Besetzung:
Niklas Broman – vocals
Nicholas Pulkkinen – guitars
Olli Hakala – bass
Chrism – keyboards
Markus Wallasvaara – drums
Simulacrum im Internet:
Homepage
ReverbNation