Band: SOILWORK
Titel: THE RIDE MAJESTIC
Label: Nuclear Blast Records
Genre: Melodic Death Metal
VÖ: 28.08.2015
Bewertung: 4,5/5
Written by: Mayhemer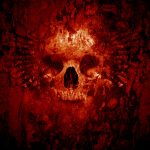 Das neue und 10. Album der Melodic Death Metal Walze aus Schweden ist ein luxuriös – bombastisches, hochmelodisches, gar weitschweifendes und meiner Meinung nach auch derzeit geniales Melodic Death Metal – Feuerwerk, das in dieser Form ein Album des Monats darstellt.  Songs, wie der Opener "The Ride Majestic" mit dem leicht epischen Intro, oder "Enemies in Fidelity", zu dem gerade ein Video veröffentlich wurde und "Petrichor by Sulphur" packen das aus, was jeder Melodic Death Metal Fan hören will: Blastbeats, Double Bass Attacken, Midtempo Riffing und Melodisches Gitarrengewitter. Nur, bei "Soilwork" klingt das Zusammenspiel der Riffs und dem begnadeten Gesang von Björn "Speed" Strid, egal ob er schreit oder singt, überhaupt das Songwriting eben um eine Spur besser, als bei den meisten anderen Genrevertretern. Intelligent – anspruchsvoll und zu keiner Zeit überfordernd erklingen die Töne aus den Boxen dieser Melodic Death Metal Planierraupe  namens "The Ride Majestic". Intelligent sind auch die Texte, breit erzählend und mit Sinn. Tja, und als ich glaubte, dass es nicht mehr besser geht, kommen Songs mit Namen ""Whirl of Pain", "All Echoing Paths" oder Shining Lights" daher! Ja, der Wahnsinn. Mir fehlen die Worte. Außer: Grenzgenial und Geil fällt mir nichts mehr ein! Und in dieser Manier geht es mit meinem Lieblingssong und gleichzeitigen Rausschmeißer der Platte " Father and Son Watching The World Go Down" weiter bzw. dem Ende zu. Danke Soilwork. Repeat Knopf! Schnell! Daumen hoch! Rock on!
Tracklist:
01. The Ride Majestic
02. Alight in The Aftermath
03. Death in General
04. Enemies in Fidelity
05. Petrichor By Sulphur
06. The Phantom
07. The Ride Majestic (Aspire Angelic)
08. Whirl of Pain
09.All Along Echoing Paths
10. Shining Lights
11. Father and Son Watching The World Go Down
Besetzung:
Björn "Speed" Strid (vocals)
Sven Karlsson (keyboards)
Dirk Verbeuren (drums)
Sylvain Coudret (guitar)
David Andersson (guitar)
Markus Wibom (bass)
Internet:
Soilwork Website
Soilwork @ MySpace
Soilwork @ Reverbnation