Band: Soleil Moon
Titel: On The Way To Everything
Label: Frontiers Records
VÖ: 2012
Genre: AOR / Westcoast
Bewertung: 3,5/5
Written by: Thorsten Jünemann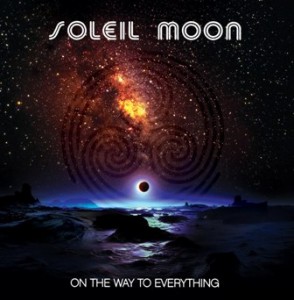 Vor einigen Jahren nur über die Bandhomepage zu erhalten, dürfen sich SOLEIL MOON nun freuen, dass sich FRONTIERS RECORDS dem Album "On The Way To Everything" angenommen haben, um es mit 3 "Bonüssen" versehen, weltweit zu releasen.
In meinem Cave rieselt entspannter und anspruchsvoller AOR Rock aus meinen Boxen der nicht langweilt, nicht zu sehr in die Westcoastrichtung abdriftet und kurzweilig durch gekonnte Instrumentenbeherrschung und Gesang (Larry King: MICHAEL THOMPSON BAND) sowie der guten Produktion, beeindruckt.
SOLEIL MOON ist ein Duo bestehend aus dem Sänger Larry King (MICHAEL THOMPSON BAND, Sänger, Songwriter, Produzent,etc) und dem Keyboarder John Blasucci, der sich seine Sporen durch Arbeiten mit Richard Marx, Michael Bolton Celine Dion, usw. verdiente. Bereits 1999 debütierten sie mit dem privat vertriebenen Album "Worlds Apart" inkl. dem Song "I´d Die For You", der später von PLACE VENDOME (Michael Kiske) gecovert wurde.
Ansonsten bleibt mir nicht viel anderes zu erwähnen, dass hier gestandenee Musiker am Werk sind, die es schaffen mit ihrem AOR nicht zu sehr den Bubblegum-Melodien zu verfallen und auch nicht fahrstuhlmusikmäßig abzufallen.
Anspruchsvoll beschreibt die Musik sehr gut, doch auch hier ist das Problem, dass nix im Kopf hängen bleibt. Kein Reißer, keine Übernummer die dafür sorgt, so schnell wie möglich die Back-Skiptaste zu drücken. Es läuft anspruchsvoll und kurzweilig durch, doch wieder stellt sich mir die Frage nach den knappen 65 Minuten:
Welche Band war das?
Tracklist:
01. History Repeats It´s Pages
02. Love The Way You Love
03. On The Way To Everything
04. Blackbird
05. Goodnight Irene
06. Freedom
07. Burn
08. Down
09. Colorado
10. Move On
11. Here I Am
12. Ohio (Bonustrack)
13. Calling On The World (Bonustrack)
14. I´d Die For You (Bonustrack)
Besetzung:
unknown
Internet:
Soleil Moon @ MySpace