Band: Sound Storm
Titel: Vertigo
Label: Rockshots Records
VÖ: 02.12.2016
Genre: Symphonic Metal
Bewertung: 4/5
Written by: Rubi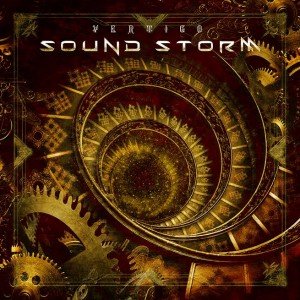 Epischer und kraftvoller als je zuvor sind Sound Storm mit ihrer neuen Platte "Vertigo" wieder zurück auf der Bildfläche. Nach den Top-Vorgängeralben "Twilight Opera" und "Immortalia" war es lange Zeit ruhig um die italienischen Musiker. Alle guten Dinge sind drei, oder? Doch "Vertigo" sollte nicht einfach nur das dritte Werk werden. Ein Konzeptalbum, wie kein anderes. Denn "Vertigo" ist zugleich der Name einer von Sound Storm entwickelten TV-Serie. Die Pilot Folge dazu gibt es hier zu sehen. Die weiteren Episoden der Serie, werden der Öffentlichkeit nur schön langsam preisgegeben.
Man muss nicht einmal ein Metal-Fan sein, denn was Sound Storm präsentieren ist kein typischer Metal. Dass sie ursprünglich Bands wie Iron Maiden und Manowar gecovert haben, ist überhaupt nicht herauszuhören. Die Sinfonik Metaller erfinden sich immer wieder neu und bleiben dabei trotzdem ihrem Stil treu. Instrumental und auch Gesangstechnisch eine Höchstleistung, hier haben sie sich selbst übertroffen. "Heavy Metal mixed with a theatrical sense of drama."
Es mag vielleicht ein paar Anläufe dauern, bis man auf den Geschmack kommt, doch überzeugt haben sie mich letztendlich doch noch. Vom ersten bis zum letzten Track befindet man sich auf einer musikalischen Reise. Langeweile ist hier ein Fremdwort. Denn obwohl die einzelnen Songs zusammenhängen und eine Geschichte erzählen, sind sie gleichzeitig unabhängig voneinander und sehr individuell.
Nach dem vorletzten etwas ruhigen Song "Alice" gibt das Quartett noch einmal stilsicher Vollgas mit "The last breath" und schließt somit das grandiose Album ab.
Meine persönlichen Favoriten "Gemini", "Metamorphosis" und "Forsaken" sind auf jeden Fall empfehlenswert.
"Inferno (Hell) is the alienating nature of art and technology, which creates in man an incurable dissociation between reality (often illogical and uncontrollable) and the desire for perfection and efficiency. More the idea moves away from human limitations, more the man himself has to give up on life and see its fulfillment. If man cannot face the death, only life escapes from human control: both those are complementary. Nothing is impossible in the Netherworld."
Na, neugierig geworden? Auf jeden Fall einen Blick in das Album werfen!
Tracklist:
01. Vertigo
02. The Dragonfly
03. Metamorphosis
04. Forsaken
05. Original Sin
06. The Ocean
07. Spiral
08. Gemini
09. Alice
10. The Last Breath
Besetzung:
Fabio Privitera – Vocals
Valerio Sbriglione – Lead und Rhythm Guitar
Elena Crolle – Piano und Keyboards
Massimiliano Flak – Bass
Sascha Blackice – Rhythm Guitar
Alessandro Bissa – Drums
Internet:
Sound Storm Website