Band: Starblind
Titel: Dying Son
Label: Pure Steel Records
VÖ: 04.12. 2015
Genre: NWOBH
Bewertung: 4/5
Written by: Daniel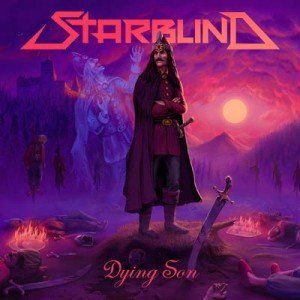 Die Schweden STARBLIND huldigen, wie sich am Bandlogo vielleicht schon erahnen lässt, vorrangig den Alben drei bis sieben der besten Band der Welt.
Aber ich werde hier einen Teufel tun, sämtliche Reminiszenzen, die sich auf diesem Album finden, aufzuzählen.
Das wäre zum einen erbärmliche Klugscheißerei und würde zum anderen die Qualität der Band abwerten.
Beim hören dieses Zweitwerkes zieht man schnell Parallelen zu  Blazon Stone, die mit ihrer Besinnung auf die Running Wild Klassiker durchaus begeistern. Das liegt allerdings daran, dass Running Wild de facto momentan immer noch mehr Schatten als Licht sind. Bei Iron Maiden trifft das ja definitiv nicht zu…
Ebenfalls eine markante Ähnlichkeit zu ihren Landsleuten weist der von der "Originalband" abweichende Gesang auf. Sänger Mike Stark benutzt zwar überwiegend die gleichen Vocallines wie ein Bruce Dickinson, setzt seine sehr gute Stimme aber in höheren Regionen an. Das verleiht dem Fünfer sogar ein kleines Stück Eigenständigkeit..
Passend dazu hat Cedrik Forsberg – Mastermind der Rocka Rollas und der Running Wild  Verehrer Blazon Stone – DYING SON produziert. Der Sound erinnert an die frühen Achtziger und wer den (logischerweise) nicht mehr vorhandenen jugendlichen Elan der Meister misst, der wird sich hier an sämtlichen Songs ergötzen.
Die Highlights markieren dabei die sich durch ihre Chöre vom Restmaterial ein Stück weit emanzipierenden Room 101 und The Lighthouse sowie der abschließende Epos The Land Of Seven Rivers Beyond The Sea,  welcher in der Tradition von Rime Of The Anchient Mariner und Seventh Son Of The Seventh nicht nur gut zu unterhalten weiß. Er hat auch genug Charakter, um als Starblind – Komposition erkannt zu werden.
Sicher, STARBLIND wirken wie ein Tribute – Band, was in erster Linie wohl auch so gedacht ist.
DYING SON hat aber mit seinen acht Tracks mehr Wiedererkennungswert als man anfänglich vermutet.
Dieses Album bietet daher nicht nur enttäuschten Anhängern der eisernen Jungfrauen ein Taschentuch.
Vor allem NWOBH – Fans im Allgemeinen werden die Schweden abfeiern, und das vollkommen zurecht!
UP THE IRONS \m/
Trackliste:
01. A Dying Son
02. Blood Red Skies
03. Firestone
04. The Man Of The Crowd
05. The Lighthouse
06. Sacrifice
07. Room 101
08. The Land Of Seven Rivers Beyond The Sea
Besetzung:
Mike Stark – vocals
Johan Jonasson – guitar
Björn Rosenblad – guitar
Daniel Tillberg – bass
Zak Wikner – drums
Starblind im Internet:
Homepage