Band: Steel Panther
Titel: All You Can Eat
Label: Open E Music
VÖ: 2014
Genre: Glam Metal
Bewertung: 5/5
Written by: Ronja
Endlich bringen die vie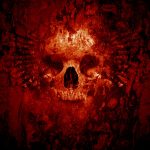 r Kalifornier von "Steel Panther" ihr langersehntes drittes Studioalbum "All You Can Eat" auf den Markt.
Also…, wer behauptet, dass "Steel Panther´s" lyrische Ergüsse Frauenrechtlerinnen auf den Plan rufen könnten, liegt eindeutig daneben. Textstellen, wie "your balls don´t have a chance – your girlfriend wears the pants" machen dies wohl klar.
Überhaupt, seht sie euch an – ich glaube die größte Konfrontationen mit den Jungs werden Frauen wohl haben, wenn es darum geht – Wer darf zuerst ins Bad, oder wer hat schon wieder den Föhn nicht ausgesteckt? 😉 Thematisch dreht sich alles um die schönste Sache der Welt – Natürlich überzogen parodiert, in typischer "Steel Panther" Manier eben, für manche mag es vielleicht zu heftig sein, aber man darf eben nicht alles für bare Münze nehmen was die vier Kalifornier da so alles von sich geben.
Musikalisch der Hammer. Testosterongeladener 80er Glam Metal mit viel Power. Vergleichbar meiner Meinung nach mit "Aerosmith" und "Van Halen", jedoch mit sehr viel Eigenständigkeit und trotzdem gut mit dem heutigen Zeitgeist vereinbar.
Diese Scheibe kann ich nur weiterempfehlen, da passt wirklich alles.
Fazit: Nicht nur für Glam-Metal Fans, dieser Sound bringt auch die lahmsten Party Gäste zum Tanzen! = "Gute Laune Garantie" 😉
Tracklist:
01. Pussywhipped
02. Party Like Tomorrow Is The End Of The World
03. Gloryhole
04. Bukkake Tears
05. Gangbang At The Old Folks Home
06. Ten Strikes You're Out
07. The Burden Of Being Wonderful
08. Fucking My Heart In The Ass
09. B.V.S.
10. You're Beautiful When You Don't Talk
11. If I Was The King
12. She's On The Rag
Besetzung:
Michael Starr (voc)
Satchel (guit)
Lexxi Foxxx (bass)
Stix Zadinia (drum)
Internet:
"Steel Panther" Website
"Steel Panther" @ Facebook

"Steel Panther" @ Twitter